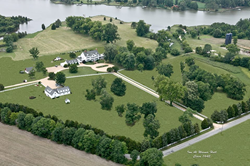 Gloucster, VA (PRWEB) May 19, 2014
The Inn at Warner Hall is pleased to announce that for the second time it was voted among the top Bed and Breakfasts in the state by Virginia Living Magazine.
Earlier this month, Virginia Living Magazine released its third annual Best of Virginia issue.
More than 32,000 people voted in the Best of Virginia survey in January, culminating in 1,345 winners in nearly 100 different categories divided among the four regions of the state – Eastern, Central, Northern, Southwest and Shenandoah Valley.
The Inn at Warner Hall previously earned the Top 10 Most Romantic Inns in Virginia by American Historic Inns, publisher of Bed & Breakfasts Guide Books and iLoveInns.com, and is listed by both the National Register of Historic Places and the Virginia Historic Landmarks Commission.
It sits at the head of the Severn River in Gloucester County. The manor house stands on a neck of land occupied and built upon continually from the mid-17th century.
The original six hundred-acre plantation site was established by Augustine Warner as a "land grant" from the British Crown. Augustine Warner received the acreage in exchange for bringing twelve settlers across the Atlantic Ocean to the Jamestown Settlement.
The two families associated with the property from this early period until well into the 19th century – the Warners and the Lewises – were among the most prominent families in Colonial Virginia. Some of the most recognized names in American history are direct descendants of Augustine Warner – George Washington, the first U.S. president, Robert E. Lee, the most famous Civil War general, and Captain Meriwether Lewis, renowned American explorer of the Lewis & Clark expedition.
Queen Elizabeth II, the current monarch of England, is a direct descendent of Augustine Warner through the Bowes-Lyon family and the Earl of Strathmore. In England, Warner Hall is referred to as "the home of the Queen's American ancestors."
Learn more about the Inn at Warner Hall at http://www.warnerhall.com.