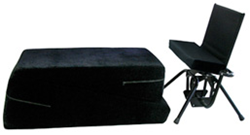 Regaining a sense of sexual identity for a person who becomes disabled as an adult may be a critical component of rehabilitation.
Burnsville MN (PRWEB) May 22, 2014
IntimateRider, a respected developer of safe sex products for adults with physical disabilities, has announced the winner of its monthly online contest. Winner of this month's contest is Cody Stanton of Holly Springs, North Carolina. Cody won a free IntimateRider in the company's email list drawing.
Developed with patented technology, IntimateRider makes it possible for people with physical disabilities to enjoy a healthy sexual life, enriching their intimate relationships. The revolutionary product is helping to remove yet another layer of discomfort and taboo thinking about people with physical disabilities, including people with spinal cord injuries, cerebral palsy, paralysis and muscular dystrophy.
As the Indiana Institute on Disability and Community shares, "Myths about people with disabilities and sex abound." It's these myths that senior leaders at InitmateRider are committed to eroding. Rather than focusing on physical limitations, the senior leaders design products with the intent to help couples begin to think differently about their sexual relationships. At its official website, IntimateRider developers share that they want to change a common goal for people with disabilities, leading persons with disabilities to realize that, "The challenge is no longer how can we be intimate, but how intimate can we be."
Customers have openly shared that the IntimateRider has returned a level of closeness to their relationships that they had prior to a physical disability caused during military service, due to an illness or following an accident. Breaking out of routines, gaining access to more options and feeling empowered are other benefits that customers have stated that they have received after using IntimateRider.
These benefits help with recovery and healing. Indiana Institute on Disability and Community says that, "Regaining a sense of sexual identity for a person who becomes disabled as an adult may be a critical component of rehabilitation." This is a reason why people like Cody decide to learn more about IntimateRider.
Other inventions developed by the company that made the original, bestselling IntimateRider include the RiderMate and the RiderMate Deluxe. These products are designed to offer mature adults with physical disabilities opportunities to enhance the sexual experiences they share with their partners.
The chance to win one of these products is open to the general public. IntimateRider conducts its contest drawing once a month. To enter the contest, visitors to the company's website (http://www.intimaterider.com) simply have to sign up as a member of the email list. Information required during signup is the visitor's name and email address. Because IntimateRider, as a company, respects its visitors' privacy, it administers its email through a firm that strictly adheres to CAN-SPAM laws.
About IntimateRider
IntimateRider (http://www.intimaterider.com), is a division of Health Postures, a premier designer and manufacturer of health products, including workplace ergonomics and sexual positioning products for physically disabled men and women. IntimateRider products are designed to help adults with arthritis, multiple sclerosis, cerebral palsy, spinal cord injuries, joint replacements and other physical challenges to realize more fulfilling intimate relationships. The products have been on the market since 1996.
Contact:
IntimateRider
14310 Ewing Avenue South, Suite 100
Burnsville, MN 55306
952-873-6136
http://www.intimaterider.com
Sources:
http://www.iidc.indiana.edu/?pageId=2502