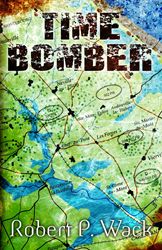 Time Bomber explores the possibility of time travel by tying it to actual events.
New York, New York (PRWEB) June 02, 2014
At the heart of Time Bomber is a World War II bomber pilot whose plane is shot down over Normandy in the days leading up to D-Day. Robert P. Wack, the author, vividly depicts the danger faced by airmen and other brave fighters who fought for the Allies, while using the science of time travel to create choices for the main character.
The central character of this tale is a real hero and scientist, Dr. Willem Jacob van Stockum, whose life and work inspired the book. Dr. van Stockum was a brilliant mathematics professor who left a promising academic career to join the fight against the Nazis. His letters to his family served as the basis for the historical portions of the story while his academic work inspired the author to introduce characters and events that explore the concept of time travel. The author says:
"Everything I've learned about Dr. van Stockum, I see through the filter of his career in mathematics, his prodigious intellectual achievements and his legacy in the world of mathematics and physics."
Time Bomber was published by Boissevain Books and is available for purchase on Amazon.com in both print and Kindle versions at http://amzn.com/0984523286/.
About Boissevain Books
Boissevain Books is a New York-based independent book publisher that was founded by the Estate of Hilda van Stockum, a noted author and illustrator of more than thirty books for children and young adults. Ms. van Stockum was the sister of Dr. Willem Jacob van Stockum.
About the Author
Robert P. Wack, the author of Time Bomber, lives in Maryland where he writes and reads when he isn't practicing medicine as a pediatrician. He was born in Washington, DC and is a graduate of the University of Notre Dame and Georgetown University Medical School. Dr. Wack developed an interest in military history while serving in the Army Medical Corps, but science fiction remains his first love.