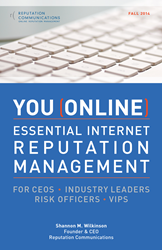 "Managing your online reputation is essential for high-profile, high-net worth CEOs, industry leaders and VIPs."
New York, N.Y. (PRWEB) May 21, 2014
"You (Online): Essential Internet Reputation Management for CEOs, Industry Leaders, Risk Officers & VIPs" will be published by Reputation Communications in September 2014.
It is authored by Shannon M. Wilkinson, the founder and CEO of Reputation Communications, an online reputation management firm based in New York City.
The publication is a guide to building, protecting and maintaining an online reputation – increasingly essential skills for high-profile "influencers" and their organizations. You (Online) will be available both as an ebook and in print.
"The heightened visibility of CEOs, industry leaders and VIPs, as well as their organizations, presents them with unique online challenges," said Wilkinson. "One is a loss of privacy. Another is the enormous amount of online information about them that they have little control over. High net wealth and high-profile individuals are also targeted more often in campaigns designed to diminish their credibility and stature. These factors can impact their professional brands and their family's security."
About Shannon M. Wilkinson
Ms. Wilkinson established Reputation Communications in 2009. She blogs about reputation and online image management, is a Forbes contributor and tweets @reputationnews. She has been featured in Banking New York, Business Insurance, Brand.com, Consumer Reports, Daily Worth, Inc. and Smart CEO.
Reputation Communications
Based in New York City, Reputation Communications provides comprehensive online reputation management and due diligence services to CEOs, industry leaders, risk officers, VIPs and their organizations, including the Forbes and Fortune 500. Its content publishing platform, You Online, is a trusted resource for articles and blog posts about all aspects of online reputation management and includes feature articles by experts in related fields.