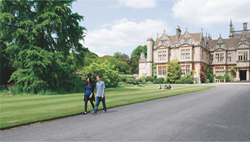 "A truly global education experience is vital for today's graduates, particularly those going in to business or looking to set up on their own," notes Len Schlesinger, Baker Foundation Professor at Harvard Business School.
Bath, England (PRWEB) May 27, 2014
Bath Spa University has appointed Dr Sarah McKenzie as academic director of Bath Spa Global – the University's new approach to international student education, which launches this month.
Dr McKenzie will be responsible for the new International First Year at Bath Spa. This programme will give new students additional support to help them integrate within the UK education system in their first year, before they progress onto full degree programmes across the University in year two. During this time their studies will include language tuition, academic instruction and information on UK history and culture, as well as the opportunity to become involved in local community projects.
Dr McKenzie received her PhD in English Literature from University of Warwick and comes to Bath Spa with over 15 years of UK and international higher education experience across the US, EU, Australia and China.
"Bath Spa Global builds on the University's existing strengths of creativity, culture, enterprise and education, while fostering an environment that will help students from around the world find their inner entrepreneur," she said.
Another part of Dr McKenzie's remit will be to develop Bath Spa Global's School of Business and Entrepreneurship, where students from around the world will come to Bath to study one of the only degree programmes in Europe that combines design thinking with global business, entrepreneurship and creativity.
Design thinking is the process of approaching any problem using the mindset of a designer - combining empathy for the problem with creativity in coming up with a solution, and detailed testing of that solution as it's developed. At the moment courses in design thinking are mostly based in the US, at universities including Stanford, MIT and Babson.
"Our aim is that the School of Business and Entrepreneurship will encourage future entrepreneurs from around the world to make Bath their home – driving the local economy and helping the world to know about the enterprise that lies within this beautiful city," continued McKenzie.
Commenting on the developments, Len Schlesinger, Baker Foundation Professor at Harvard Business School and President Emeritus at Babson College said: "International student recruitment is important to most HE establishments, but Bath Spa University is doing things differently to its peers. Its global students will be completely integrated with the rest of the University, providing benefits not just for the international students themselves, but for UK students as well.
"A truly global education experience is vital for today's graduates, particularly those going in to business or looking to set up on their own," he continued.
Bath Spa University has an ambitious target to increase numbers of international students on campus to 15 per cent of the total student population by 2015, and the first cohort of Bath Spa Global students will arrive for the International First Year on campus in September 2014.
"We aim to nurture our students to become socially engaged, global citizens, and Dr McKenzie's appointment is an important part of us achieving that vision," said Professor Christina Slade, Vice-Chancellor at Bath Spa University.
Cllr Paul Crossley, Leader of Bath & North East Somerset Council, said: "We are proud to support Bath Spa University with this dynamic initiative which supports Bath's continuing development as a globally recognised business incubator centre.
"The Council will continue to help develop the programme with Dr McKenzie to ensure it delivers a range of benefits to the local community, inspiring creativity and innovation amongst a host of new entrepreneurs and linked to the Bath City Riverside Enterprise Area."
-ENDS-
Further information
John Kissell, VP of Marketing, Shorelight Education
Email: john(at)shorelight(dot)com
Tel: +1.802.498.7887
Notes to Editor
About Bath Spa Global
Bath Spa Global's mission is to harness the power of creative minds, business acumen, and entrepreneurial thinking to prepare future global business leaders for success. Through the International First Year programme and School of Business and Entrepreneurship, Bath Spa Global expands learning opportunities for students through innovative degree programmes offered in the world-class learning environment of Bath Spa University's historical campuses in UNESCO World Heritage City, Bath, England.
http://www.bathspa.ac.uk/bathspaglobal
Bath Spa Global is a partnership between Bath Spa University and Shorelight Education. To learn more about Shorelight Education visit http://www.shorelight.com.
About Bath Spa University
Bath Spa University is where creative minds meet. Offering a wide range of courses across the arts, sciences, education, social science and business to 7,000 students, the University employs outstanding creative professionals which support its aim to be a leading educational institution in creativity, culture and enterprise.
Based in stunning countryside just a few minutes from a World Heritage City, Bath Spa University ensures its students graduate as engaged global citizens who are ready for the world of work. In fact, 93 per cent of graduates find themselves in work or further study within six months.
http://www.bathspa.ac.uk.