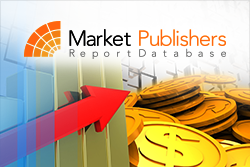 London, UK (PRWEB) May 20, 2014
In 2012, the worldwide zeolites production decreased by nearly 2.9% in comparison with 2011 and went beyond 2.86 million tonnes. In the same year, China called for almost 70% of the world's total production volume. It was followed by South Korea, Japan, Turkey and Jordan with a combined share of 21%. Bear River Zeolite, Honeywell, Teague Mineral Products, INA Marble and Zeolite, Qingdao Wish Chemicals, Guilin Guangming New Technology Company Limited and Green Technology Group are among the top companies in the world zeolites market.
The highest growth in the demand for zeolites is expected to be witnessed in APAC and the Middle East. The worldwide zeolites production is anticipated to see poor growth in the years ahead. In 2017, the world zeolites production volume is forecast to be around 2.98 million.
Comprehensive analysis and forecast of the world, regional and country markets for zeolites can be found in the topical research study "Zeolites: 2014 Market Review and Forecast" prepared by Merchant Research & Consulting and recently published by Market Publishers Ltd. The report presents a deep insight into the present situation and historical background of the market; offers future industry forecasts; grants access to cutting-edge data showing zeolites capacities, production, demand trends, exports and imports statistics, and regional price fluctuations.
Report Details:
Title: Zeolites: 2014 Market Review and Forecast
Published: January, 2014
Pages: 58
Price: US$ 890.00
http://marketpublishers.com/report/industry/raw_materials_fillers/zeolites_market_review.html
A close analysis of the zeolites market at different geographical levels together with a complete pack of accurate statistics demonstrating zeolites supply, demand, capacity and foreign trade (globally, by region and country) is provided in the insightful topical report. Furthermore, the in-demand study covers the trends prevailing in the worldwide zeolites market, dissects the landscape of the top country and local markets, investigates the feedstock market state, and also identifies and characterizes the primary market growth resistors and propellers. The report shows who stands where in the global zeolites marketplace, highlights the latest price changes, profiles the dominant zeolites producers and suppliers. In addition, the topical study encloses a comprehensive future outlook for the zeolites market through 2018.
Report Scope:

Unbiased profound insights into the zeolites market landscape.
Set of qualitative and quantitative information on the actual state and historical evolution of the key zeolites geographical markets.
Top-level data on zeolites capacity, production/demand, imports/exports.
Snapshot of the latest local price fluctuations.
Extensive summary of the predominant market development trends.
Review of the market growth restraints and propellers.
Up-to-bottom analysis of the competitive environment.
Detailed profiles of the key suppliers and producers.
Vital details on the main consumers.
All-round outlook for the zeolites market through 2018.
More insightful market research reports by the publisher can be found at Merchant Research & Consulting page.