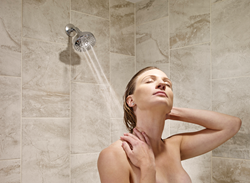 "Consumers want a showerhead with exceptional coverage, but also want to be mindful of the environment," said Maribeth Kwasniewski, director of retail marketing, Moen. "Moen's Avira showerhead provides the best of both worlds."
North Olmsted, Ohio (PRWEB) May 21, 2014
Tired of your same old shower routine? Now it's easy for consumers to bring a comforting and refreshing "boost" to their daily experience with the new Moen® Avira™ showerhead. Avira features Moen's new HydroBoost™ technology, allowing for a superior and invigorating shower while also helping to conserve water.
"Consumers want a showerhead with exceptional coverage, but also want to be mindful of the environment," said Maribeth Kwasniewski, director of retail marketing, Moen. "Thanks to Moen's HydroBoost technology, they won't have to sacrifice, as the new Avira showerhead provides the best of both worlds."
Most showerheads are gravity fed, meaning the water collects in the showerhead and slowly trickles out, creating a low-pressure, drooping effect. New HydroBoost technology allows air to mix with the water to enhance the force of the spray – all while conserving water and offering maximum coverage.
Avira is also certified to meet WaterSense® criteria, meaning the fixture meets the Environmental Protection Agency's (EPA) guidelines as an environmentally responsible and efficient product. It offers a flow rate of 2.0 gallons per minute (gpm), using up to 20 percent less water than the industry standard 2.5 gpm models.
The Avira showerhead features a transitional design, complementing most bathroom décor. It offers four distinct spray functions with optimized pressure in each setting, easily allowing consumers to switch back and forth between settings to suit any mood.
In addition, the Avira showerhead is easy to install and fits all standard shower arms. "In only three simple steps - and within minutes - consumers can have a new, refreshing and water-saving showering experience," added Kwasniewski.
The Avira showerhead with HydroBoost is available at The Home Depot in Chrome ($34.98)* and in Moen's exclusive Spot Resist™ Brushed Nickel finish ($39.98),* which resists fingerprints and water spots, helping to maintain the brilliance of the fixture. It also offers a limited lifetime warranty.**
For more information about the new Avira showerhead with HydroBoost from Moen, visit moen.com or call 1-800-BUY-MOEN (1-800-289-6636).
###
*Prices are approximate and may vary within regions.
**For complete warranty information, visit moen.com
About Moen
As the #1 faucet brand in North America, Moen offers a diverse selection of thoughtfully designed kitchen and bath faucets, showerheads, accessories, bath safety products and kitchen sinks for residential applications – each delivering the best possible combination of meaningful innovation, useful features, on-trend styling and lasting value. In addition, Moen® Commercial offers superior performing products that deliver lower lifetime costs for today's facilities.
Moen's legacy of thoughtful design stemmed from an invention by Al Moen. In 1937, after burning himself at a sink with traditional single taps for hot and cold water, a young, determined Al Moen set about inventing a single-handle faucet designed to mix hot and cold. The invention, finalized in 1939, revolutionized the plumbing industry and set the stage for 75 years of innovation.
Moen is part of Fortune Brands Home & Security, Inc. (NYSE: FBHS), which creates products and services that help fulfill the dreams of homeowners and help people feel more secure. The company's trusted brands include Moen® faucets, Master Lock® security products, MasterBrand Cabinets®, Therma-Tru® entry door systems and Simonton Windows®. FBHS holds market leadership positions in all of its segments. FBHS is part of the S&P MidCap 400 Index. For more information, please visit http://www.FBHS.com.
Contact:
Jennifer Allanson or Kristi Stolarski
Falls Communications
(216) 696-0229
jallanson(at)fallscommunications(dot)com
kstolarski(at)fallscommunications(dot)com