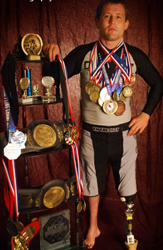 I was trying to go for a ground and pound finish or a knockout or a referee stoppage.
Valley Center, CA (PRWEB) May 19, 2014
Fans at the San Pasqual Reservation Center in Valley Center didn't know what to expect. Many of them looked confused.
However, it didn't take long before they knew Matt Betzold was a force to be reckoned with on the MMA circuit.
Just 55 seconds into his debut with Xplode Fight Series (XFS) Betzold, an amputee fighter, won his match with Deondre Gibbs by arm triangle choke, improving his professional record to (5-3), (4-0) as a Flyweight.
"I was trying to go for a ground and pound finish or a knockout or a referee stoppage," said Betzold. "But he (Gibbs) basically opened himself up for a submission, so I had to take it because I would have been a fool not to end it as fast as I can."
The Sacramento, CA resident, who last fought in April of 2013, signed a six-fight deal recently with San Diego-based promotion company, XFS. The former grappling standout had been waiting for more than a decade to sign a multi-fight deal with an MMA promotion company.
"People have made excuses not to fight me, just like they've made excuses not to sign me," said Betzold. "I'm so excited, this feels good, I'm fighting again in July and I'm ready to give these fans here in San Diego another show!"
The first round victory vs. Gibbs was an important one for Betzold. Not only was it his first win in more than a year, his first win under new promotion company XFS, but it was also another huge win for his inspirational story…. A story that is captivating the nation.
Betzold's left leg was amputated at age five after consuming a piece of poisonous candy. Then, after being bullied for most of his childhood for being physically impaired, Betzold began MMA training at age 17 to merely protect himself against the aforementioned bullies. And now, he's gone from "fighting for his life" to "fighting for a career", and he is still humbled by the role model status he has achieved.
"It just gives me that much more of a reason to keep pursuing my dream", said Betzold. "It's an absolute blessing, just an awesome feeling, I'm actually impacting someone else's life, even if it's on such a small scale, it's uplifting and makes me want to work that much harder."
Matt Betzold may have arrived in Valley Center, CA as the one-legged fighter or the amputee fighter but, he left as the fighter with heart, guts and determination.
Betzold is no pushover… He's for real.
"There's no man in this world that's going to rob me in my house and that cage is my house," Betzold exclaimed. "Don't mess with me in my own house, it's not a good idea homie."
Betzold trains with Sacramento's "Team Alpha Male" (owned and operated by MMA Legend and current UFC Fighter, Urijah Faber) and he will fight next on July 19 in Valley Center, CA.
For more information, log onto http://www.xplodefightseries.com/.
Betzold is represented by Donald J. Royer, Sr. of US Elite Team Combat Management, a combat sports management agency based out of Tucson, AZ.
For more information, long onto http://uselitecombat.com.
For More Info. & To Request Interviews:
MEDIA CONTACT:
Donald J. Royer Sr., Matt Betzold's Manager
Phone: (520) 878-8778
Email: droyer(at)uselitecombat(dot)com