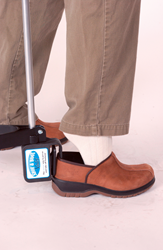 "What better gift could you give a friend or loved one than relief from pain and added independence in their daily activities."
Tulsa, OK (PRWEB) May 20, 2014
Over 50 million people in the US alone have problems putting on and taking off their footwear: the elderly, obese, arthritic, stroke victims, diabetics, rehab patients, orthopedic problems and dozens more disabling afflictions. Over one million people in the US alone have major orthopedic surgeries every year and are not allowed to bend or reach for 6-8 months. Go to SBV's website, http://www.shoebootvalet.com, and watch our the new informative video that demonstrates the use of this "one of a kind", revolutionary device. The SBV weighs approximately one pound and requires little to no grip strength. The company also patented a bootjack that attaches to the device and will pop off even the tightest shoes and boots with ease.
VPL is a small company that sees deficiencies in the market place and develops products to fill these needs. "Our mission is to give pain relief and independence to the millions of people who have mobility problems," says Trent Morris, CEO and founder of the company. "Everyone has a friend or loved one who needs our SBV. What better gift could you possibly give than a device that relieves pain, and the embarrassment of losing independence?"
Morris recently patented a new "Sock Valet" that will be the only sock donning device with a gripping mechanism to pull socks and hosiery over the foot, ankle and up the calf with little to no bending or reaching required. Morris feels this product will revolutionize the industry. The Sock Valet will be out later this year as will the new "Boot Valet", specifically designed for the farm, ranch and boot wearers' communities.