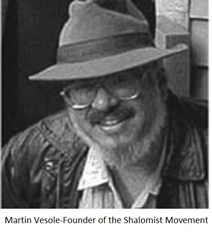 If you want something new to take root that reverses the attrition trend then commit to be open to new paradigms that more effectively meet the needs of our changing culture.
Boca Raton Fla. (PRWEB) May 20, 2014
While the growing attrition among all organized religions is felt nationwide, none carries the urgency of the declining Jewish community. The latest Pew Study illustrates that whatever steps have been taken in the past to address this simply aren't working.
"If you want something new to take root that reverses the attrition trend then try something new," stated Martin Vesole. "And don't diminish the importance of the facts in the interim."
Rabbi Steve Wernick, executive director of the United Synagogue of Conservative Judaism states, "I don't think there's anything new here.We know this story and this (Pew) study further validates it."
This is typical of many Conservatives who, like Rabbi Bradley Shavit Artson believe "the rapidly declining numbers doesn't mean the movement is failing."
"By its size, Conservative Judaism is losing numbers….that's true, but I want to focus on our quality," Rabbi Artson, Dean of the Ziegler School of Rabbinic Studies and American University emphasizes.
According to the Shalomist Movement, this is the core cause of why the Jewish community is continuing to decline, burying our head in the sand is a surefire road to extinction except for the Orthodox segment. There are many reasons for this, however, as the foundational element is based on the number of children in an Orthodox home averaging 4.1 compared to 1.9 children per Jewish adult overall. Couple this with little incidence of interfaith marriage and there remains a solid and growing foundation for the future of the Orthodox segment to build upon, says the Shalomist Movement.
Take interfaith marriage for example. Vesole says this is the most challenging within the Reform segment which represents 35% of the Jewish community while only 18% identify as Conservatives with the Orthodox group at 10%. There also appears to be a switching down to a less traditional segment which results in the Reform step down, translating to an exit out of Judiasm entirely.
The Shalomist Movement first addresses the interfaith marriage issue: Jews who marry a non Jewish spouse and are raising their children Jewish account for 20% of the intermarriage segment. In sharp contrast, those that marry a Jewish spouse state that they are raising their children Jewish by a wide margin, 96%. It's clear this is another key area where many Jews are being lost.
"So the question remains, what do we do about this? We can talk about the scope of the issue for years, and have since the first Pew study came out 10 years ago. However, until we collectively address the key exit areas our community will continue to disappear," Vesole explains. "Lowering the barrier of entry for newly married individuals who might consider raising their future children Jewish is a good start point. How welcoming are we really? Or do we create so many obstacles due to an outdated doctrine that most don't even consider this option. The membership business model only serves to add to the resistance, especially in tough economic times when the 'competition' allows free participation. Let's get a national dialogue going that cuts across all segments and opens up a new, fresh approach."
This is the purpose of the Shalomist Movement There has never been a more urgent time to join.
About Martin Vesole
Martin Vesole is a 64 year old attorney who attended Washington University in St. Louis and graduated from the De Paul College of Law in Chicago. He lived in Israel for two years attending the Hebrew University in Jerusalem and working on a kibbutz famous for manufacturing the Naot sandal line. Martin worked as a legal writer for Commerce Clearing House in Chicago and also served as President of Temple Menorah and remains on the Board of Directors presently. He's divorced with a stepdaughter and two grandchildren.
About the Shalomist Movement 
The mission of the Shalomist Movement is to open hearts and minds to broadening the Judaic doctrine to attract many who have left and revitalize it for all Jews. The root letters of Shalom mean "completeness" and "wholeness." Judaism needs to stretch to become more complete and whole by looking outside itself and being open to adopting ideas from the secular world and other religions that are compatible with Jewish thinking. While the primary focus of the Shalomist Movement is on broadening Judaism, it also teaches that there is much we can learn from others, and that building bridges of commonality is the start to a greater spiritual evolution based on global unity versus historical division.