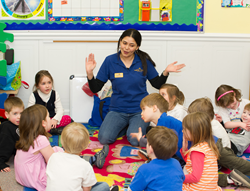 Chicago, IL (PRWEB) May 20, 2014
WHAT: Language Stars, the national leader in early childhood foreign language education with locations throughout the Chicago, Washington DC and Baltimore metropolitan areas, will host a 15-minute Lunch Bite Webinar to educate parents about the academic, linguistic and cultural benefits of foreign language learning for 2-14 year olds.
In this free, interactive Webinar, parents will learn from language experts why "earlier is better," and why it is important to have foreign language programs in elementary school.
WHY: Between birth and adolescence, the brain is hard-wired to acquire language naturally. As a child approaches puberty, the nature of language learning and storage changes, becoming less flexible. Overall, the ease of learning a second language diminishes with age. Taking advantage of this window of opportunity by exposing children to a second language young allows a child to optimize his or her learning potential, helping to shape the brain at its most flexible stage. The more stimulation language centers in the brain receive during this critical window, the more neural connections develop, enhancing not only long term language skills, but overall intelligence development.
WHEN: Wednesday, May 21, 2014
11:30 a.m. CST or 12:30 p.m. CST
WHO: Administrators considering foreign language programs for their school. All attendees will be eligible to receive a 5% discount off Summer and 2014-15 Academic Year Language Stars programs for their school.
RSVP: Register here to reserve a spot.
About Language Stars
Language Stars, the national leader in early childhood foreign language education, teaches full immersion play based language classes for kids focusing on the window of opportunity between birth and 14 years of age when a child's brain is hardwired to learn any language naturally and easily. Language Stars has 25 locations in the Chicago, Washington D.C. and Baltimore areas and is in 150 public and private schools, including preschools, elementary schools and middle schools. Language Stars currently reaches over 10,000 toddlers, preschoolers, and elementary students each week, helping them move toward proficiency in a foreign language, build cognitive skills and become sensitive to new cultures.