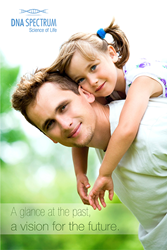 DNA Spectrum is the first company to offer a comprehensive ancestry test for only $89, including all fees, testing, analysis, and results.
Phoenix, AZ (PRWEB) May 21, 2014
DNA Spectrum is a consumer genetics marketplace that is leading the charge in reducing DNA test prices and passing the entire genetic test savings onto consumers. DNA Spectrum is the first company to offer a comprehensive ancestry test for only $89, including all fees, testing, analysis, and results. The comprehensive DNA test at DNA Spectrum costs $189 until the research team at DNA Spectrum integrated a new genetic profile mechanism at a significantly lower cost.
DNA testing for ancestry, health, wellness, and genetic predispositions cost upwards of thousands of dollars just three years ago, making the tests unaffordable for the majority of individuals in the United States. Given the advances in DNA testing technology and the dramatic increases in computing power, the testing and infrastructure costs to offer genetic analysis to consumers are a fraction of the former cost. Individuals that were once unable to purchase genetic screening and analysis are now exploring the power contained within DNA and leveraging that capacity to make impactful life decisions.
What prompted the decision by DNA Spectrum to pass the entire testing cost savings on to consumers? DNA testing advances have enabled consumers to save $100, or over 50% of the cost of the comprehensive ancestry testing and analysis package. With this enhanced improvement in technology, DNA Spectrum can deliver increased savings and an outstanding value to customers without sacrificing the quality of the test results. In addition, DNA Spectrum is able to expand the knowledgeable customer service team to maintain high customer satisfaction levels and to continue to assist individuals in the search for family history and others answers contained in DNA. The advance is a win for consumers, genetic researchers, testing laboratories, and genetics as an applied science.
According to CNN and Nature, the International Weekly Journal of Science, the US government has managed to drive the price of sequencing an entire genome to $1,000, and these savings will be available to consumers in the near future. The combination of Moore's law in computing power (price halves every two years due to increases in technological power) and the National Human Genome Research Institute's funding of researchers and scientists have enabled genetic companies to offer increased value and offerings to consumers. In fact, a historical survey of entire genome sequencing provides a great glimpse of the advances in technology.
Year Genome Sequencing Price
2006 $10.5 Million
2008 $ 343,000
2010 $ 29,000
2012 $ 6,600
2014 $ 1,600
2015 $ 1,000 or less?
It is an exciting time for DNA Spectrum, employees of the company, and customers. DNA tests and genetics are forever evolving and DNA Spectrum is proud to be able to pass new cost saving processes, quality prices, and customer service to existing and future customers.
About DNA SPECTRUM
Every person's DNA stores an incredible amount of valuable information. This knowledge is only as relevant as the tools available to understand and unravel the mysteries hidden within the genetic sequence. The vision of DNA Spectrum is to uncover the information contained within a genome and present the findings in a format that is easy-to-understand, meaningful, and life changing.
DNA Spectrum meets the discerning demands of genetic testing clients today with DNA ancestry and private storage services and support. Later this year, DNA Spectrum will release the first DNA lifestyle genetic products, enabling individuals to make positive life changes in fitness, diet, and exercise. With DNA Spectrum as a partner, customers and researchers will be at the forefront of genetic breakthroughs for generations to come and will be able to access all genetic needs through one online marketplace.
Media Contact
Paul Yates
1.800.471.6164
http://www.dnaspectrum.com
office(at)dnaspectrum(dot)com