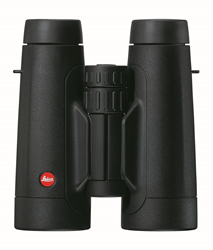 Since its introduction, the Leica Trinovid 42 has won consistent acclaim for delivering outstanding color fidelity and image sharpness in a compact, impact-resistant, ergonomic design.
(PRWEB) May 21, 2014
To celebrate young birders and the adults who inspire and encourage them, Leica Sport Optics and BirdWatching magazine are partnering to conduct an essay contest oriented to young birders and the adults who mentor them.
Adult birders are asked to describe a memorable birding experience that they had mentoring one or more young birders. In turn, young birders are to write about a memorable birding experience that they had with an adult mentor.
A superstar panel of Leica Birding Team members and BirdWatching editors will read all the submissions and will select two winners, one from each category.
The adult winner will be awarded a new Leica Trinovid 42 binocular. The winning young birder will receive a binocular, too, but it won't be just any Leica Trinovid. It will be...
--The same Trinovid used throughout 2013 by Kenn Kaufman, Pete Dunne, Victor Emanuel, Don and Lillian Stokes, and other expert birders...
--The Trinovid that was on site for both the second U.S. record of Amazon Kingfisher and the first record of Eurasian Sparrowhawk...
--The same binocular that Neil Heyward used in December to break the ABA Big Year record...
It will be lucky Leica Trinovid 42 Binocular No. 2002069—the famous Traveling Trinovid!
Jeff Bouton, Manager of Birding and Nature Markets for Leica, explains that the contest was created in order to recognize the importance of mentoring in the birding community. "Leica has always championed youth birding programs and has earned the prestigious title of the Legacy Sponsor of the ABA Young Birding Programs due to our continuing support of these important programs over many years since they began. Quite simply, great programs like these and dedicated mentors will help develop and shape tomorrow's industry leaders. I wish I had similar, structured programs when I was cutting my birding teeth, but happily I ran into exceptional birding mentors throughout my travels as a younger birder."
Bouton came up with the idea of the Traveling Trinovid back in 2012. "It is no secret that many recreational birders have always enjoyed the thrill of the chase and the spirited camaraderie associated with a big-day or big-year challenge. I'd just gotten a new sample binocular to use at the bird and nature festivals we attend annually and happened to spy a White-eyed Vireo through my office window. I thought jokingly, 'That's the first one of those seen through this binocular!' and in the instant, the idea was born. A binocular and a big year, great fun!"
Chuck Hagner, editor of BirdWatching, says that the contest was a perfect fit for the publication. "Our readers are passionate about the birds they see in their yards and out in the field, and they care deeply about making sure there are plenty of birds to be enjoyed not only by their children, but by their children's children and subsequent generations. They understand that, for the sake of conservation, we need to do everything we can to encourage new birders. Thanks to Leica, this contest gives them an opportunity to tell their stories, to say how they encourage and support young birders, and, perhaps even better, it will let young birders tell the world about some of the best people around—the wonderful people who inspired them, taught them, and encouraged them."
Essays must be emailed to Trinovid(at)birdwatchingdaily(dot)com no later than June 30, 2014. Contest winners will be announced on BirdWatchingDaily.com and in the October 2014 issue of BirdWatching magazine. Complete rules and more information are on the BirdWatching website (http://www.BirdWatchingDaily.com).
About the Leica Trinovid 42
Since its introduction, the Leica Trinovid 42 has won consistent acclaim for delivering outstanding color fidelity and image sharpness in a compact, impact-resistant, ergonomic design. Constructed from the finest materials, fully rubber-armored, and comfortable to use, it's proved itself to be a worthy successor to a true classic. Suggested retail price: $1449 US. Read more at http://us.leica-camera.com/sport_optics.
In nine months' time, some of the most talented birders in North America carried the Traveling Trinovid, tallying 613 bird species. To find out who birded with the Traveling Trinovid last year and what birds they saw, go to http://travelingtrinovid.com.
About Leica
Leica has been producing the highest quality optical instruments since 1849. Leica's brand philosophy has always been to only make the highest quality products in every category using all of the latest technologies and the finest materials available. Leica produced their first commercially available binocular back in 1906, and invented the first 35 mm camera in 1925. The philosophy remains the same today combining 155 years of optical engineering prowess with a rich heritage of exceptional photographic tradition, proudly handcrafted by skilled artisans in Germany; Leica Sport Optics.
http://us.leica-camera.com/sport_optics
http://www.facebook.com/LeicaBirding
About BirdWatching Magazine
For over a quarter-century, BirdWatching has been North America's premier magazine about wild birds and birding. Regardless of whether you enjoy birds in your backyard or far afield, you'll find information that will help you find, attract, identify, and understand birds; connect with other birders; and increase your enjoyment of birdwatching. Each issue contains feeding and attracting tips, reviews of books and new products, conservation news, useful info about the best birding locations in North America, articles by the best-known, most respected names in the business—including regular columnists David Sibley, Kenn Kaufman, Pete Dunne, Eldon Greij, Julie Craves and Laura Erickson—and the biggest, most spectacular photos of birds you'll find anywhere.