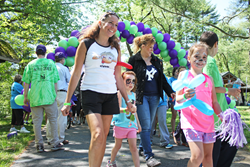 Yorktown Heights, N.Y. (PRWEB) May 20, 2014
On Saturday, May 17, nearly 350 walkers came out to support the Westchester Chapter of the Hearing Loss Association of America (HLAA) at its 8th annual Walk4Hearing in FDR State Park. The 5K walk helped bring attention to the 48 million Americans living with hearing loss, and specifically the 320,000 faced with a hearing impairment in Westchester and Rockland counties. The Westchester/Rockland Walk4Hearing is one of 22 coordinated walks around the country sponsored by the Hearing Loss Association of America.
Special guest Pete Ruf, a longtime News 12 Westchester sports anchor, was the event's emcee. Dr. Gloria Schlisselberg, head of the Speech & Hearing program at Mercy College, and Jacob Landis of Jacob's Ride, cut the ceremonial walk ribbon to kick off the event. Landis, a college student and cochlear implant recipient, was also a guest at April's Walk4Hearing kickoff event at ArtsWestchester in White Plains, where he spoke about his journey riding a bike 11,000 miles across country to raise funds for pediatric cochlear implants.
"The goal of our Walk today – and that of the 22 Walks around the country – is to raise awareness of the issues having to do with hearing loss; as well as to raise money for important services that benefit everyone who has hearing loss," Ruf said.
More than $58,000 was raised by Saturday's walk, and Steve Wolfert, Westchester/Rockland Walk4Hearing co-chair, anticipates that fundraising efforts will top $60,000 in upcoming weeks. The annual Walk4Hearing raises funds for college scholarships, support of veterans, captioning of theater productions, installation of audio-induction looping systems and other assistive listening technology, and much more at both local and national levels.
"We are delighted with the success of this year's walk," Wolfert said. "The funds raised here today will help so many of those living with hearing impairments in Westchester and Rockland counties and beyond," added co-chair David Goldwasser.
Representatives from Walk4Hearing national sponsors, CapTel Captioned Telephone and MED-EL, attended Saturday's event and made short addresses to the crowd. Local sponsors included News 12 Westchester, ENT and Allergy Associates, New York-Presbyterian Hospital/Westchester Division, GEICO Insurance, MetLife, Metro Sound Pros, The Microsoft Store at The Westchester, Riverdale Kiwanis, and Ridgewood Savings Bank.
About Hearing Loss Association of America (HLAA):
HLAA, a 501(c)(3) charitable organization with headquarters in Bethesda, Maryland, has more than 200 chapters throughout the nation and is the voice for people with hearing loss. Founded in 1979 by Howard E. "Rocky" Stone as Self Help for Hard of Hearing People (SHHH), HLAA is the nation's largest consumer advocacy organization of its kind. HLAA publishes the bimonthly Hearing Loss Magazine, holds annual conventions, and hosts online learning with the Hearing Loss Academy. For more information about HLAA go to http://www.hearingloss.org.