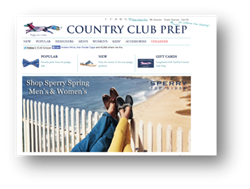 Shoppers want customization as well as convenience, and they'll spend more when they have access to multiple fashion brands in one place.
Atlanta, GA (PRWEB) May 20, 2014
Country Club Prep, the first and only e-commerce portal for preppy apparel, announces a 600 percent increase in revenue in its second year, attributing significant growth to customer loyalty. Adding to the momentum, Country Club Prep is now filling an average of 120 online orders per day while continuously updating products on its site, as new partnerships with preppy fashion labels are created almost every single day.
As an Internet retail hub for audiences who prefer bright colors, oxford shoes and college-team koozies, Country Club Prep makes the traditional style more accessible to the casual customer through its fun and snarky tone throughout the site in product descriptions, order confirmation emails, and even the products themselves.
"As we enter our third year of business, we're thrilled to see such significant growth in revenue, demonstrating the effectiveness of our unique approach to online commerce," said Matt Watson, half of Country Club Prep's founding duo. "Shoppers want customization as well as convenience, and they'll spend more when they have access to multiple fashion brands in one place. That's why we pride ourselves on building relationships with our customers, both online and offline, to ensure we meet their unique, expanding needs."
In addition to providing customers with a seamless online shopping experience, the e-commerce site also benefits both established labels, like Sperry Top-Sider, and up-and-coming brands, such as Lauren James, by offering them a direct channel to reach a loyal customer and fan base. Country Club Prep delivers targeted reach to shoppers who prefer preppy style fashion, therefore eliminating the need for extra ad spending by retail partners.
"Country Club Prep is the perfect online store to distribute Lauren James products and apparel" said Lauren Stokes, Owner/Founder of Lauren James Co. "With the tremendous surge in omni-channel e-commerce over the last few years, it has become increasingly difficult to cut through the clutter and reach preppy buyers. Thankfully, countryclubprep.com has become an enviable marketing engine and a dedicated resource for some of our most loyal customers, so we're very excited continue our prepster partnership."
Fueled by triple digit growth, Country Club Prep is planning further market penetration in its third year. In June, the retailer will open its first brick-and-mortar location in Charlottesville, Va. Further, the brand expects to add 50 new labels to its site by the end of 2014, as well as several new brick and mortar stores.
About Country Club Prep
Country Club Prep prides itself on understanding and engaging with its audience. With the fast-paced nature of ecommerce and social media in today's digital world, the CCP possesses the ability to interact with preppy consumers, create products and add designers at the click of a button. The company also delivers targeted reach for preppy style fashion designers, while delivering the seamless, customized customer experience we all prefer when buying online. For more information, visit http://www.CountryClubPrep.com and follow @CCPrep on Twitter.