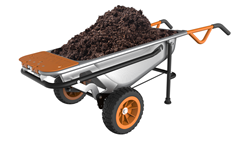 WORX AeroCart optimizes leverage, which makes lifting 200 lbs. feel like 17 lbs.
Charlotte, NC (PRWEB) May 21, 2014
Any weekend warrior who has used a conventional wheelbarrow knows they are heavy, bulky and hard to balance and maneuver, especially over uneven terrain. Not so with the new WORX AeroCart. When in wheelbarrow configuration, AeroCart's patented design concentrates the center of gravity over two oversized, flat-free tires for an easier to lift and manage load. In fact, tests have shown that AeroCart makes lifting 200 lbs. feel like 17 lbs. AeroCart's balanced, dual-wheel construction eliminates side-to-side tipping and weaving, which often leads to spilled loads and muscle strain.
AeroCart lightens the load when moving loose topsoil, gravel, sand, rocks, firewood, debris and other heavy loads. That's just the beginning of AeroCart's versatility.
Pull the release knob on the side of the cart and fold up the legs until they lock. Then fold down the front dolly plate – and AeroCart transforms into a hand truck.
Remodeling, rearranging furniture or having a garage sale? Use AeroCart in hand truck mode to move boxes, totes, cabinets, furniture, appliances, construction materials or other items up to 300 lbs. You'll be glad AeroCart's narrow 22-inch width easily navigates standard doorways and fence gates.
Drop-down extension arms convert the multi-purpose cart into an extended dolly for transporting bags of mulch, fertilizer, potting soil or logs weighing up to 80 lbs.
AeroCart paves the way to creative projects, such as rock gardens, stone walls and walkways. Securely carry bulky potted plants, shrubs and small trees using the adjustable mesh with cinch strap accessory, which has a set of steel rings that loop over the extension arms for stability. A webbed sling accessory is provided to transport boulders and odd-shaped lawn ornaments.
AeroCart also features a cylinder holder for transporting water-cooler jugs and propane tanks, as well as a refuse bag holder for grass clippings, leaves and other debris.
Also, by attaching a 1-7/8 or 2 inch receiving ball (not included), AeroCart can be used to jockey boat, personal watercraft, snowmobile, ATV, motorcycle and utility trailers up to 1,000 lbs.
AeroCart requires only 15 inches of space from the wall when stored upright in the dolly mode. Handles are quickly removable for transport in a car trunk, SUV, truck or van.
The WORX AeroCart (WG050, $159.99) and optional accessories, including a Wagon Conversion Kit (WA0228, $79.99), Snow Plow (WA0230, $49.99) and Watering Bag (WA0229, $19.99), are available through http://www.worx.com.
Like and follow WORX at https://www.facebook.com/worxus and https://twitter.com/WORXTools.