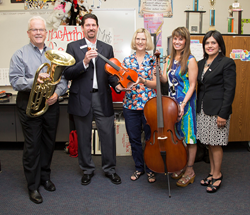 'MacArthur . . . was able to successfully recruit a large number of students, parents, teachers and people in the community to stand up for music education on their behalf,' said Roger Eaton, Yamaha.
Buena Park, CA (PRWEB) May 20, 2014
MacArthur Fundamental Intermediate School in Santa Ana is the recipient of a $5,000 musical instrument prize package from Yamaha Corporation of America. MacArthur was one of eight select schools nationwide that came out on top in the company's Quest for Music Education online contest, which awarded more than $100,000 in band and orchestral instruments and equipment.
The contest consisted of a series of online quests undertaken at usa.yamaha.com that covered a variety of topics, including Yamaha Artists, Yamaha Internships and Music Advocacy. Schools tallying the largest participation rate each won one of several prize packages: three First Place prizes of $20,000 in instruments, three Second Place prizes of $10,000 in instruments, and two Third Place prizes of $5,000 in instruments. Elementary/middle schools, high schools and colleges/universities were all invited to participate.
Having earned Third Place in the elementary/middle school category, MacArthur selected one AVA5-140SK intermediate viola, one YEP-201 standard euphonium and one VC3S44 student cello.
"The Yamaha Quest was an incredible opportunity for our MacArthur Intermediate instrumental music department to acquire much needed instruments particularly during these lean economic years," said Althea Holdcroft, band director at MacArthur. "The euphonium, cello and viola that we will be receiving will add richness to our ensembles. We are grateful to Yamaha for improving our sound and giving the joy of music to the lucky students who will be playing these instruments."
Roger Eaton, of Yamaha said, "We experienced a wonderful nationwide turnout for this first-time contest, and MacArthur Fundamental Intermediate School was able to successfully recruit a large number of students, parents, teachers and people in the community to stand up for music education on their behalf. I'm sure the school's students and teachers will be able to put these musical instruments to great use in their band program."
A complete list of winning schools is as follows:
First Place:
1. Teasley Middle School, Canton, Georgia
2. Arroyo Valley High School, San Bernadino, California
3. San Diego State University, San Diego, California
Second Place:
1. Somerset Canyons Middle School, Boynton Beach, Florida
2. Round Rock High School, Round Rock, Texas
3. VanderCook College of Music, Chicago, Illinois
Third Place:
1. MacArthur Fundamental Intermediate School, Santa Ana, California
2. Broad Run High School, Ashburn, Virginia
For more information, visit http://4wrd.it/YAMAHAUSA.
-END-
About Yamaha
Yamaha Corporation of America (YCA) is one of the largest subsidiaries of Yamaha Corporation, Japan and offers a full line of award-winning musical instruments, sound reinforcement and home entertainment products to the U.S. market. Products include: Yamaha acoustic, digital and hybrid pianos, portable keyboards, guitars, acoustic and electronic drums, band and orchestral instruments, marching percussion products, synthesizers, professional digital and analog audio equipment, Steinberg recording products and Nexo commercial audio products, as well as AV receivers, amplifiers, Blu-ray/CD players, iPod docking systems, home-theater-in-a-box systems, earphones, headphones, sound bars, and its exclusive line of Digital Sound Projectors. YCA markets innovative, finely crafted technology and entertainment products and musical instruments targeted to the hobbyist, education, worship, professional music, installation and consumer markets.