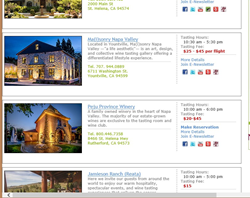 "This winery profile enhancement will positively impact our visitors' online experience." - Heidi Paul, WineCountry Co-Founder
Napa, California (PRWEB) June 02, 2014
VinoVisit, Inc., the only free tasting room management tool for wineries, today announced that it has entered into a strategic partnership with WineCountry.com to syndicate the VinoVisit.com "Book A Visit" reservation link on winery profiles found on their web properties and on the WineCountry mobile app.
Says WineCountry Co-Founder, Heidi Paul, "A tool like VinoVisit.com makes it easy to plan a trip to wine country, something we've been doing for years. This winery profile enhancement will positively impact our visitors' online experience."
According to CEO Dan Lintz, "WineCountry is a go-to website for visitors planning a trip. With such a significant online presence with our target consumers, it's easy to see how those enhanced web listings will improve our winery clients' visibility. Ultimately, that translates into more tasting room traffic and greater revenues for our winery partners." Dan adds, "This is another important step in our growth as we continue to expand across the country. We currently work with wineries located in 19 states and Canada."
VinoVisit, the leading winery reservations platform for consumers, provides an easy way for visitors to search, select, and book tours and tasting from any internet-enabled computer, tablet or smartphone. Visitors can search based on the winery attributes that matter most to them: region and wine types as an example.
VinoVisit, the first reservation platform developed specifically for wineries, captures valuable visitor contact information, collects marketing and sales data, and passes the information back to the winery for marketing purposes.
About VinoVisit
For nearly five years, VinoVisit.com has been the most trusted resource for consumers to find tastings, tours, and special events -- and the easiest way for wineries to manage their tasting rooms. With new features, tools, integrations, and best of all, a new pricing model, it is free for consumers and wineries. No setup fees. No monthly or annual subscription fees, and no reservation fees. Simply approve your winery profile for http://www.VinoVisit.com and get your tasting room in front of wine lovers in just a few minutes. VinoVisit works with wineries in 19 states and Canada.
http://www.vinovisit.com/winery-sign-up/overview/
About WineCountry.com
Now in its 20th year, WineCountry.com's network and app are the premier sources for wine country information, attracting a variety of travelers with an affinity for superior accommodations, food, wine, and personal services. The network provides information on wineries, top-notch wine country inns and resorts, luxurious spas, wine events and festivals, shopping, and for cooks, the site features recipes and wine pairing suggestions as well as the ability to book services directly with the various businesses. WineCountry.com also offers guest services for visitors looking for a more personal, perfectly-matched experience or need help planning a wedding proposal, honeymoon, conference or other special occasion. Whether online or talking to one of its Guest Service Experts, WineCountry.com is the source for planning or booking a wine tasting trip [guestservices(at)WineCountry(dot)com]. The app is available for download on iTunes or Google Play. For more information about http://www.WineCountry.com, visit the web site or contact Heidi Paul at (707) 260-0725.