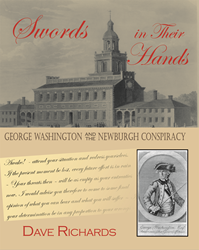 Hendersonville, NC (PRWEB) May 20, 2014
In his new book, "Swords in Their Hands: George Washington and the Newburgh Conspiracy," historian Dave Richards explores one of the most important events during the Revolutionary War – an averted army revolt during the Revolutionary War.
"It's referred to as the Newburgh Conspiracy, named for an anonymous letter originated in Newburgh, N.Y., that was circulating through the Continental Army," Richards says. "If not for Gen. Washington's leadership and gravitas – we might not be talking about the United States at all. As Washington so prophetically said, 'The army is a dangerous instrument to play with.'"
By the autumn of 1782, many Revolutionary War officers in the Hudson Highlands had grown angry and frustrated after not being paid for months, or in some cases, years. With victory over the British within sight, they began to fear that they would never get their back pay and promised postwar pensions because the Continental Congress in Philadelphia, meeting under the Articles of Confederation, had no authority to raise funds by directly taxing the American people.
In March, hundreds of Washington's officers gathered in the Temple of Virtue at the New Windsor Cantonment to agree on the first steps toward implementing a plan to terrify the state legislatures into giving Congress real taxation authority so it could pay the army. To their shock and chagrin, however, Gen. Washington arrived and, in a 15-minute address, changed the course of history. Having "grown almost blind in the service of my country," he gently chided the officers, the general put down the uprising.
"One of the least known but most important events in the founding of the United States, the Newburgh Conspiracy involved many of the most famous leaders of the age. Its collapse marked a turning point in American military history, the consequences of which affect us still today. We are indebted to Dave Richards; his book should be widely read," writes Dr. Richard H. Kohn, Professor Emeritus of History and Peace, War and Defense at the University of North Carolina, Chapel Hill.
About Dave Richards
Dave Richards is the author of "Swords in Their Hands: George Washington and the Newburgh Conspiracy," (http://www.swordsintheirhands.com/). Richards served seven years in the U.S. Army, primarily in military intelligence, and then earned a bachelor's in Russian language and literature from George Washington University and a master's in Slavic and East European languages and literatures from Ohio State. Soon thereafter he joined the faculty of the Defense Language Institute in Monterey, California, where he taught Russian to members of our armed forces. Later, after the Cold War came to an end, he taught English overseas. An avid student of American history, Dave writes regularly for historical quarterlies and is a frequent speaker on a range of historical subjects.