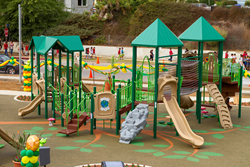 We have a special place in our heart for this park.
Chattanooga, TN (PRWEB) May 23, 2014
PlayCore is a proud sponsor of the City Parks Alliance Frontline Park program, and is excited to share that the El Sereno Arroyo playground in Los Angeles, CA was recently chosen as the Frontline Park for May. To an underserved community that previously had no nearby facilities, the El Sereno Arroyo playground is a vibrant destination for the many nearby residents.
The surrounding community has one of the largest concentrations of children under the age of five in the county, but lacks playgrounds and outdoor recreation spaces. As with many urban areas, land to create new ones is in short supply. The City of Los Angeles saw a fantastic opportunity to turn the lot (an unused right-of-way owned by the California Department of Transportation) into a much-needed recreation space for children and families.
In addition to the playground, the space includes grassy areas, a fitness area for adults that enables them to supervise children at play while working out, several walking paths, picnic tables, mosaic art, decorative fencing, and a garden.
Anne-Marie Spencer, Corporate VP of Marketing for PlayCore states, "We have a special place in our heart for this park, we were able to participate in the revitalization in partnership with our GameTime brand, The Trust for Public Land, NRPA, and many other engaged stakeholders. We included the space in our latest PlayCore video, because we were so touched by the passion of the city and the joy that the space has brought to local families."
To learn more about Frontline Parks, go to the City Parks Alliance website.
About PlayCore
PlayCore helps build stronger communities around the world by advancing play through research, education, and partnerships. The company infuses this learning into its complete family of brands. PlayCore combines best in class planning and education programs with the most comprehensive array of recreation products available to create play solutions that match the unique needs of the each community they serve. Learn more at http://www.playcore.com.
About City Parks Alliance
City Parks Alliance is the only independent, nationwide membership organization solely dedicated to urban parks. It unites and serves a growing network of hundreds of civic and community leaders, government agencies, park and recreation authorities, funders and others working to create healthy and sustainable parks and green spaces. CPA's vision is that everyone in urban America will live within walking distance of a park that is clean, safe and vibrant. http://www.cityparksalliance.org