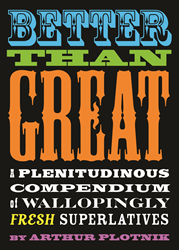 "It's difficult to describe how a thesaurus is entertaining, but the author has managed it. From the sheer number of quality adjectives, I imagine I would find one in this terrific—scratch that—frabjous compendium."—Portland Book Review
(PRWEB) May 20, 2014
Arthur Plotnik, who authored Better Than Great: A Plenitudinous Compendium of Wallopingly Fresh Superlatives (Viva Editions), was interviewed at The Grammarist on the importance of grammar. Though syntax and language choices are often viewed as pedantic or uninteresting, Plotnik explores the unique fascination of language. He argues that "even a glimpse of language dynamics is an awakening, a fresh perspective on right, wrong, and the immense interplay of forces shaping every utterance from pillow talk to Presidential pronouncements." He even insists that grammar can be quite emotional, pointing out that "Language liberals ("anarchists!") and conservatives ("sticklers!") rumble over its fine points and inconsistencies." Plotnik makes a compelling case for his fascination with the minute workings of language, and how "within linguistics and grammar lie the genetic codes and evolutionary charts of language."
What People are Saying about Better Than Great (also in audio)
"Do you feel ... sometimes that you're stuck on a couple of words, unable to move beyond them? Well then, we have the book for you!"
—Robin Young, "Here and Now," WBUR and NPR
"Better Than Great is . . . more entertaining and informative than any book of lists has a right to be."
—Richard Nordquist, About.com
Say goodbye to "awesome" and "amazing," and hello to Better Than Great: A Plenitudinous Compendium of Wallopingly Fresh Superlatives. A veritable TKO of stale superlatives with its almost 6,000 alternative terms for praise and acclaim of any kind, the writer's wordsmith Arthur Plotnik draws from a full range of expression.
Better Than Great is the must-have reference for anyone seeking to rise above tired superlatives when the quality of acclaim matters, as in love, celebration, commerce and the arts. Critics, copywriters, journalists, poets, speakers, sales reps, bloggers, Twitterers—word-slingers from the whole digital and literary spectrum—should find it to be a concussively brilliant, euphoriant, supernal, larky, trill, spikeable, epiphanic, über-cool, soul-juddering experience, an upful and endorphining jubilee to make the heart warble.
Arthur Plotnik is a versatile author with a distinguished background in editing and publishing. Among his seven previous books (not to mention 22 pseudonymous potboilers penned early in his career) are The Elements of Expression and Better Than Great.