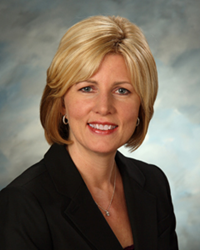 We are very excited to have Angie join our team. Her expertise in building niche brands and cost-effective supply chain systems enables NSS to provide clients with turnkey, total retail management
St. Louis, MO (PRWEB) May 20, 2014
National Sales and Solutions(NSS), a leading provider of outsourced sales management for consumer packaged goods companies, announced Angie Echele has joined the firm as Executive Vice President. Ms. Echele brings a full complement of brand marketing and supply chain management services to NSS clients.
Ms. Echele has a well-rounded background in consumer packaged goods (CPG), having managed award-winning teams for some of the country's largest retail accounts, first at Purina and later at Energizer Battery. Ms. Echele held key roles in Sales, Organizational Development, Strategy and Business Planning, and Brand Marketing.
Ms. Echele also spent seven years putting lessons learned at big brands to work for small and medium companies via Genesis Sales and Marketing and her own firm, Retail Smarter. Retail Smarter provides business development strategy, brand marketing and supply chain management services for clients.
"We are very excited to have Angie join our team. Her expertise in building niche brands and cost-effective supply chain systems enables NSS to provide clients with turnkey, total retail management," said Ron Otto, President of NSS.
About National Sales Solutions
Founded in 1998 and headquartered in St. Louis, Missouri, National Sales Solutions is a leading provider of outsourced sales services to consumer packaged goods (CPG) companies. We serve a diverse group of global clients and provide each with personal attention to their specific goals. We help clients launch new products, expand into new retailers, grow current sales or enter the U.S. market from abroad. National Sales Solutions offers a complete solution, serving most retail channels, including Food, Drug, Mass, Convenience, Beauty, Natural Products, and major Online retailers. For more information please visit http://www.NationalSalesSolutions.com.
Contact:
Ron Otto
National Sales Solutions
rotto(at)nationalsalessolutions(dot)com
636-527-7115