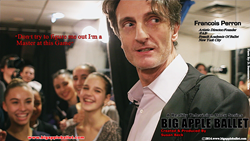 'Big Apple Ballet' is a Reality TV Series that Deserves a spot on a Network Slate. The entertaining Francois Perron brings all the gravitas of the NYC ballet world and big personality to launch this series
Los Angeles, CA (PRWEB) May 21, 2014
"Big Apple Ballet" is a Reality TV Docu Series set in New York City and centers around Artistic Director & founder Francois Perron formally of world famous Paris Opera Ballet and smash Broadway hit Billy Elliot fame coaching the young Billy's into dancing stardom. Francois is gearing up for reality drama as he and his school French Academie Of Ballet will open its doors into this exclusive intriguing world of training New York City's most gifted young dancers with dreams of securing a place in some of the worlds greatest ballet companies and with Perron's track record FAB has become one of the most sought after pro training schools.
Francois has that likeability factor, that joie de vivre charm about him whether he's all dressed up in Hugo Boss for New York City's ballet elite in attendance for one of 'FAB's Manhattan performances or the intensity of classroom drama displaying his french ferocity when his passion turns into an Incredible Hulk like moment where he demands the best from his students, like a tornado he moves across the classroom floor heading towards a student who struggles to get it right.
Francois brings a gravitas, Black Swan-esque intrigue! He also teaches at American Ballet Theatre's JKO Jacqueline Kennedy Onassis School, and Juilliard. As a professional dancer, a rarity Francois danced in
all 3 major New York City pro ballet companies New York City Ballet, Joffrey and American Ballet Theatre.
His explosive volatility and witty jibs are sure to entertain ballet fans and inspire new ones! He is like a chameleon intense, complex to figure out he can be blue collar in his lumberjack plaid flannel shirt wolfing down Dunkin Donuts or blending in with his students still dancer lean in designer jeans wearing the schools 'FAB' black with white trim jacket or elegant like a walking Rolex campaign.
Having just taught morning classes at American Ballet Theater's JKO School he arrives at his own school just in time to receive a quick briefing from his assistant Leslie who tries to keep up with him as he makes his way down the long hallway to teach his advanced students, he is a looming statuesque six feet tall and without saying a word his mere presence can silence the student chatter. Class and rehearsals begin.
In an almost entourage like atmosphere a row of chairs are always present in his classroom to accommodate visiting company directors, faculty, staff, in house photographers, outside press/media and dance parents some famous. When actress/model Andie McDowell boasted of her daughter training with Francois on ABC's popular show 'The View' it created quite a buzz.
There are endless layers of stories to be told entertainment counts and if your an already ballet fan or not the launch of the new video trailer is a tease intro presenting the colorful Francois leaving you wanting more.
In a David vs Goliath of "Firsts" Susan states "With the new Starz scripted ballet drama 'Flesh and Bone' on the horizon it may just be the right time for this unique reality tv docu series with a French twist. Simply put there is No One like Francois!" Could this be the beginning of Francois Fever?
As in tutu's, pointe shoes and costume 'fittings' it will be exciting to see what Network and or co production partner will be the correct fit to have this series picked up. Stay tuned!
About Susan Beck Productions: A new production company developing reality based docu drama series with first project Big Apple Ballet and several other shows in development groundbreaking in the world of animal advocacy and the world of acting waiting in the wings.
http://www.facebook.com/realityballettv
Learn more about the great: http://www.frenchacademieofballet.org