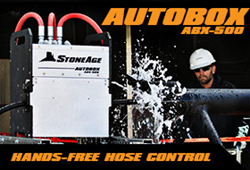 It'll pay for itself just on better cleaning.
Durango, CO (PRWEB) May 20, 2014
As industry continues to strive for safer cleaning methods, innovative tool manufacturers welcome the opportunity to create better tooling options for inherently difficult jobs. Removing workers from the immediate dangers of high pressure water and hazardous chemicals is the primary goal behind the push for hands-free hose handling.
Pipe cleaning operations traditionally performed by hand-feeding a tool down a line can be automated with the use of hose handling devices like the AutoBox. Replacing the operator at pipe entry, the AutoBox feeds the hose at a consistent rate controlled remotely from outside the barricaded blast zone. Removing the operator from the line of fire reduces risk of injury and enables contractors to bid jobs that require hands-free safety compliance.
The AutoBox ABX- 500 system accommodates a wide range of hose sizes and passes couplings and whip checks for continuous operation with multiple hose connections. Allowing operators to clean longer runs with less physical fatigue translates to higher productivity and less downtime for contractors. You can connect any StoneAge rotary pipe cleaning tool to the hose for a variety of applications. The rotary tool pulls the hose forward and the AutoBox controls the forward and reverse speed for consistent feed rate and dwell time. Consistent control of the feed rate produces better cleaning results.
"At shutdowns, we work 10-16 hour days and the guys just get worn out," states Shawn Barker of Shawn Barker Construction in Trona, California. When offered the opportunity to test the ABX-500 system, Barker decided it would be perfect for their next cleaning of a potash processing plant.
The simple design of the AutoBox system makes it easy to operate and maintain. Weighing in at 90 lbs. with a small footprint, the machine can be easily transported and set up, even in tight spaces. Minimal maintenance combined with reduced personal protective equipment (PPE) requirements make the ABX-500 a worthwhile investment. "It'll pay for itself just on better cleaning," remarks Barker. Furthermore, the AutoBox system permits the combining of hose handling, job monitoring and dump operation into a one-man task, requiring fewer operators.
Technology and Safety Specialist for StoneAge, Harry Richmond, spends much of his time at plants looking at ways to optimize cleaning operations. "The main thing that plants are looking for is safety," says Richmond. Plant managers recognize the dangers of manual waterblasting and are leading the push for innovation in the field. "Automated tooling will in almost all cases be safer."
Contractors interested in learning more about automated pipe cleaning with the Autobox ABX-500 hose handling system can visit http://www.stoneagetools.com/autobox.