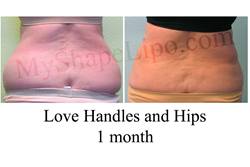 I'd highly recommend liposuction to anyone that struggles with diet and exercise.
Las Vegas, NV (PRWEB) May 21, 2014
Most people have no idea how easy and affordable it is to get the fat sucked out of their "problem area" in order to reach their body goals. Liposuction has become a great option for people that are looking for a permanent change to their body issues. With new technologies and improved techniques one could have fat permanently removed from nearly anywhere on their body and be back to work within a few days.
MyShape Lipo is a specialty liposuction clinic located in Las Vegas, NV, where 70% of their patients fly in from out of state for their experience of over 15,000 procedures. They have seen a nearly 50% rise in women choosing full body liposuction in the past few months. Full body liposuction includes chin, arms, back, abdomen, waist, and thighs.
"Fat can easily be removed from just about any part of the body," says Trevor Schmidt PA-C, the Liposuction Specialist at MyShape Lipo. "Full body liposuction can have a profound change on a persons life in a relatively short period of time."
Full body liposuction in many cases will include multiple liposuction procedures to address the areas of concern. There are limitations as to how much can be done in a single procedure. For safety purposes, it makes sense to break it into smaller procedures so that the patient risk is limited.
At MyShape Lipo, many patients fly in from places such as New York, Florida, California and even Canada to take advantage of the affordable rates and extensive experience of Schmidt. The unique specialty of liposuction and affordable rates allows people from anywhere to access highest quality liposuction for a price they can afford.
Their Canadian patients find that with lower rates they are able to get much more work done for the budget they were considering. MyShape Lipo offers a greater value to their patients. "It's simple, you get more for your money," says Schmidt, "if you want liposuction, it just makes sense to see an expert that specializes."
As a consequence, many of the people that choose MyShape Lipo are able to treat their whole body with liposuction if they desire. Imagine permanently removing the fat from all of your trouble areas throughout your body. The benefits are plentiful; fit better into your clothes, feel confident in public, wear short sleeve shirts, finally get compliments on your body.
"It made me so happy that all my friends and family noticed the dramatic change that I experienced with MyShape Lipo," said Nancy L, a previous patient of MyShape Lipo who had full body liposuction. "The additional confidence has affected me in nearly every aspect of my life. I'd highly recommend liposuction to anyone that struggles with diet and exercise."
About MyShape Lipo
MyShape Lipo is a specialty liposuction clinic located in Las Vegas, NV. Trevor Schmidt PA-C the liposuction specialist has the experience of over 15,000 liposuction procedures. They have treated all body shapes and sizes to achieve optimal results for each individual. For a complimentary Body Shape Analysis, call today 702-818-5476.