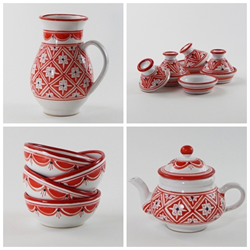 Made by skilled artisans, these ceramic dinnerware, serving pieces, kitchen utensils and cookable tagines are all hand crafted without the use of machinery, decals or stencils.
Louisville, KY (PRWEB) May 21, 2014
StyleVisa.com, an online retail boutique specializing in contemporary global décor by artisans and designers around the world has just launched a collection of handcrafted ceramic entertaining and dinnerware essentials from artisan brand Le Souk Ceramique. Introduced as part of StyleVisa's new Summer 2014 assortment, Le Souk Ceramique's products are entirely handmade and freehand painted in a small studio in Nabeul, Tunisia, located just off of the Mediterranean coast. Featuring food safe paints and glazes, skilled artisans create this collection that features ceramic dinnerware, large decorative platters, traditional teapots, cookable tagines and more without the use of machinery, decals or stencils.
StyleVisa will be offering four distinct design collections including Aqua Fish, a seaside inspired style with sea green and cobalt blue hues; Azoura, reminiscent of white walls and blue doors seen in the villages dotting the Mediterranean coastline; Nejma, a red floral mosaic; and Tabarka, an elaborate blend of Italian, French and Arabic designs like the influences that shaped the architecture of this namesake city.
The impeccable workmanship of this studio can be seen in the details of each finished product such as ice cream dishes, oval platters, pitchers and plates, which are ideal for summer entertaining. StyleVisa is also pleased to offer Le Souk Ceramique's collection of stovetop and oven safe clay tagines, ideal for cooking and serving couscous, rice dishes and other Mediterranean foods.
About StyleVisa
StyleVisa is your passport to shop for unique home accents and affordable home décor. Inspired by travel and multi-cultural design, StyleVisa was founded in 2011 and offers contemporary global décor, handmade style accessories, sustainable furniture and certified organic bath and beauty products by artisans and designers from near and far. Focused on quality craftsmanship and a modern global aesthetic, StyleVisa features brands such as Images d'Orient, Rue de Marli, Scents and Feel, Sabre Paris Flatware, and Lucia, bringing access to a diverse array of designs like handmade African baskets, classic American leather goods, Tunisian towels, Danish barware and French kitchen accessories. StyleVisa offers free shipping on all orders over $50 within the United States as well as free returns and international shipping at cost to customers around the world.