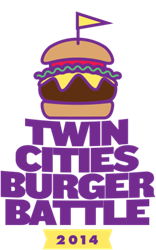 Saint Paul, Minn. (PRWEB) May 20, 2014
B-52 Burgers & Brew of Inver Grove Heights and Gold Nugget Tavern & Grille of Minnetonka took home the hardware at Saturday's inaugural Twin Cities Burger Battle in St. Paul. A panel of five judges chose B-52 as the Burger Battle Champion while attendees voted Gold Nugget as the People's Choice Winner.
More than 1,300 attended the sold-out event in Mears Park featuring 12 restaurants competing in the two categories. Chefs Adrian Hernandez and Jason Saji served up B-52's winning burger, dubbed the Spicy B-52 Burger (a regular menu item), which included roasted jalapenos, banana peppers, chipotle mayo, pepper jack and B-52 sauce.
Gold Nugget's executive chef Eli Renn served up the Chimichurri Burger (pictured right) featuring Mortadella ham and chimichurri spices mixed into its patty, then topped with Gruyere cheese, tomato jam and arugula on a peppadew pepper and black sesame bun.
Judges David Fhima of Faces Mears Park, Stephanie March of Mpls. St. Paul Magazine, James Beard Nominee Erik Anderson, Bin Wine Bar owner Rebecca Illingworth, and KFAN's Paul Lambert (who also emceed the event) rated their favorite burgers based on presentation, creativity, bun, patty, toppings/garnish and overall quality.
Event organizer Jim Buron presented a $5,000 check to The Sanneh Foundation of St. Paul. Founded by former professional soccer player and 2002 U.S. Men's National Team member Tony Sanneh, the foundation helps at-risk children develop leadership skills with mentoring, after-school programming, tutoring and college prep training.
Burger Battle sponsors included Summit Brewing Co., KFAN, aimClear® Online Marketing Agency, Mpls. St. Paul Magazine and Faces Mears Park. The Minnesota Wild, MN Germanfest, Mountain Dew Kickstart and FILO Productions Inc. also supported the event. DJ Mac of The Beautiful Ones and Viva Knievel provided musical entertainment throughout the event.
Plans are already underway to host next year's Burger Battle in Minneapolis. Buron said he is looking to expand the competition to as many as 20 restaurants and 2,000 attendees.
###
The full list of restaurants and their entries:
Twin Cities Burger Battle Champion: B-52 Burgers & Brew
NAME: Spicy B-52 Burger
People's Choice Award Winner: Gold Nugget Tavern & Grille
NAME: Chimichurri Burger
RESTAURANT: St Paul Grill
NAME: 350 Market Grill Burger
RESTAURANT: The Bulldog Lowertown
NAME: The Stilton Burger
RESTAURANT: Lulu's Market & Deli
NAME: The Fair Lucy
RESTAURANT: Casper & Runyon's Nook
NAME: Cutie-Kabobb-Urger
RESTAURANT: The Groveland Tap
NAME: The Sweet Ride
RESTAURANT: Red Cow
NAME: French Onion Burger
RESTAURANT: 5-8 Club
NAME: The Pig Pen
RESTAURANT: My Burger
NAME: The Trufflepig
RESTAURANT: Victory 44
NAME: The Perfect Burger
RESTAURANT: Town Hall Tap
NAME: Artichoke Asiago Slider