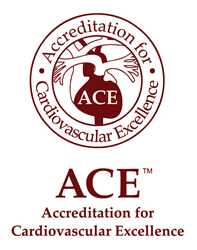 As a world leader in interventional cardiology, Emory once again serves as a model for academic medical centers aiming to better serve their patients. --Bonnie Weiner, M.D., ACE CMO
Washington, DC (PRWEB) May 20, 2014
The Accreditation for Cardiovascular Excellence (ACE) is proud to announce that Emory University Hospital and Emory University Hospital Midtown, Atlanta, GA, are the latest facilities recognized with provisional accreditation by ACE. Both academic hospitals successfully completed the ACE accreditation review and succeeded in demonstrating quality in cardiovascular care.
"The ACE accreditation process is a significant accomplishment in that it demonstrates a program's commitment to achieving the highest standards of care," says Bonnie Weiner, M.D., MSEC, MBA, FSCAI, FACC, and ACE's chief medical officer. "As a world leader in interventional cardiology, Emory once again serves as a model for academic medical centers aiming to better serve their patients."
Emory University has a long history of national leadership in diagnostic cardiac catheterization and interventional coronary procedures. Dr. Andreas Gruentzig, renowned for pioneering angioplasty in 1977, directed the angioplasty program at the Emory University School of Medicine from 1981 until 1985. Drs. Spencer B. King III and John S. Douglas Jr. were subsequent directors of the Emory angioplasty program. Dr. Habib Samady, the current director of the angioplasty program, is a leader in intravascular imaging, coronary physiology, and stent biomechanics.
Today, Emory University Hospital's catheterization and interventional laboratories collectively perform more than 8,000 catheterization and interventional coronary procedures each year. By achieving ACE accreditation, Emory continues to demonstrate commitment to the highest standards of cardiovascular care and its leadership role in ongoing quality improvement.
ACE accreditation is a strategic, long-term approach based on comparing information collected against national data and best practices as defined by experts in the field of interventional cardiology. To achieve ACE accreditation, the physicians and staff at Emory University Hospital and Emory University Hospital Midtown worked hand-in-hand with ACE's expert cardiology professionals to implement appropriate use criteria, engage physicians in the quality outcomes process, and validate compliance with current published guidelines and consensus documents.
Facilities seeking ACE accreditation can obtain more information and complete the application process at http://www.cvexcel.org.
About Accreditation for Cardiovascular Excellence (ACE)
ACE, an independent organization sponsored by the Society for Cardiovascular Angiography and Interventions (SCAI) and the American College of Cardiology Foundation (ACCF), offers independent evaluation and monitoring of facilities that provide cardiovascular care. By reviewing facility and operator performance and comparing clinical decision-making to nationally accepted best practices; ACE quality review and accreditation services play a critical role in continuous quality improvement programs. Learn more at http://www.cvexcel.org.