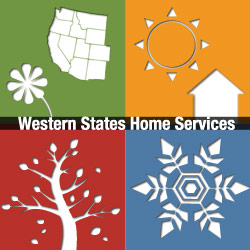 Chandler, Arizona (PRWEB) May 20, 2014
Spring is coming to an end and Arizonans are already starting to feel the heat of summer. Arizona averages triple digits during the summer months, which can be extremely costly and dangerous without a well-maintained or functioning air conditioner.
With the summer months also comes the busiest months for AC companies, so it's important not to wait until the last minute to make sure an air conditioner is working as it should. Western States Home Services is providing all Arizona Residents with the opportunity to replace their air conditioning system for better functionality, improved energy efficiency, and a sense of relief and comfort. They suggest preparing your cooling system for heat waves during spring, while temperatures are still in the double digits and resources are more readily available.
Western States Home Services is offering $250 off any system replacement for a limited time only. An HVAC expert will determine the best Carrier® system for a home, while considering energy efficiency and the homeowner's budget. This is a discount for air conditioning service Gilbert residents and the state of Arizona can benefit from to reduce the monthly cost of energy bills. If homeowners aren't sure if they need a system replacement, home energy audits are also available. With a home energy audit, an HVAC specialist will assess a home and suggest ways to improve energy efficiency.
The coupon is limited to 1 household and 1 per customer. It cannot be redeemed with any other offer. The coupon is available for print at http://westernstateshomeservices.com/coupons-specials. For more information on home energy audits, or to schedule an appointment, homeowners can visit http://westernstateshomeservices.com/energy-savings.
About Western States Home Services
Western States Home Services is a reputable HVAC company that has been in business for more than 50 years. They offer air conditioning repair and maintenance, system replacements, heating repair, heating installation, and home energy audits. Their qualifications include being an APS Qualified Contractor and SRP Certified Contractor.