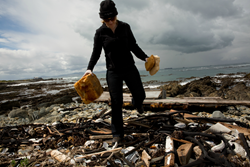 Washington, DC (PRWEB) May 21, 2014
The total amount of trash picked up during the 28th year of Ocean Conservancy's International Coastal Cleanup weighed more than 12 million pounds, the most ever collected in the event's history, according to a report on the Cleanup and its data released today. This new total is an indicator of the tremendous amount of ocean trash found on shorelines and in the ocean and waterways around the globe.
The data were collected last fall during the 2013 International Coastal Cleanup, the largest annual volunteer effort aimed at improving the health of the ocean. While the report and the information it contains is a celebration of a truly international volunteer effort to rid the world's beaches of trash and debris, Ocean Conservancy also is using this occasion to make a worldwide appeal to find solutions to stopping – at its many sources – the trash that ends up in the ocean.
"Ocean trash truly is a global problem that affects human health and safety, endangers marine wildlife, and costs states and nations countless millions in wasted resources and lost revenue," said Andreas Merkl, Ocean Conservancy's president and CEO. "At its core, however, ocean trash is not an ocean problem; it is a people problem – perpetuated by the often unwitting practices that industry and people have adopted over time. But I am convinced we can solve it if we have the audacity to confront the problem head-on."
From the shorelines of beaches and waterways, as well from the water, 12,329,332 pounds (5,592,491 kg) of trash was collected by 648,015 volunteers during the Cleanup. They did this by walking 12,459 miles (20,058 km) of shores and searching 455 miles (732 km) of water.
"Recently, the tragic loss and subsequent search for the Malaysia Airlines jetliner drew the world's attention to the large pieces of debris floating in the open ocean. Now, we have these data that show the vast array of trash along shorelines and in the coastal ocean, and this is only a small fraction of what's out there," said Nicholas Mallos, Ocean Conservancy's marine debris specialist and conservation biologist. "I believe these events often serve as a wake-up call that our ocean has become the world's garbage pit and that nations, businesses, and individuals must work together to take the necessary steps to achieve trash free seas."
The Cleanup is part of Ocean Conservancy's larger strategy for Trash Free Seas, and is one of the many ways the organization is joining with others to help find answers and solutions to address existing ocean trash and eventually stop its flow into the ocean. Other Ocean Conservancy-led efforts include:

A Scientific Working Group on Marine Debris at the National Center for Ecological Analysis and Synthesis (NCEAS), convened by Ocean Conservancy in 2011, has been collaborating to provide new insights into the scale, scope and impacts of marine plastics. This research is expected to result in a number of novel publications in peer-reviewed scientific literature, and it will help inform recommendations to policymakers and industry and guide future research on marine plastics.
Last fall, members of the Ocean Conservancy's Trash Free Seas Alliance convened to chart a course for possible interventions aimed at tackling debris at the source. During the meeting, scientists, industry and conservation leaders discussed the implications of the latest insights from the scientific community and defined three innovative work streams to confront marine plastics.
This past year, Ocean Conservancy's Trash Free Seas scientists and program staff joined expeditions in Alaska and Maine to survey ocean plastics – in particular, to better understand the origins of debris and how and where it travels once it's in the ocean.
In 2013, Ocean Conservancy partnered with the Wrightsville Beach Sea Turtle Project and Wrightsville Beach—Keep It Clean in North Carolina to launch a pilot project to better understand and protect sea turtles from the dangers of marine debris littering nesting beaches. The project is expanding to nesting beaches throughout the southeast U.S. and Gulf of Mexico during the 2014 nesting season.
Additional information about items found, infographics, and state-specific data are available online at http://www.oceanconservancy.org/.