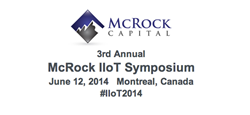 SAN DIEGO (PRWEB) May 21, 2014
McRock Capital, the first dedicated Industrial Internet venture capital company focused on the intersection of sensors and software in large industrial markets, is set to host the 3rd Annual McRock IIoT Symposium on June 12, 2014. The conference will take place in Montreal, Canada, where the world's leading Industrial Internet of Things companies will share knowledge, solutions, and opportunities in the IIoT sector.
The one-day symposium is filled with keynotes, panels, and company presentations, followed by a networking session and guest speaker. Mike Brooks, Mtell's President and COO, will participate in the "Smarter Fields: Drilling for Insight" panel alongside representatives from Shell Technology Ventures, Saudi Aramco Energy Ventures, Export Development Canada, and GE.
As a company profiled with high growth in the Industrial Internet of Things, Mtell is invited to share breakthroughs made in the oil and gas and related industries. Mtell will share details on how the company has broadened the technology reach of IIoT/M2M for global companies using Machine Learning and Predictive Analytics, and the overall impact it has on asset health management, net product output, safety, and the environment.
Attendees will have the opportunity to question panelists and gain knowledge on how new technologies are being applied in the field.
For more information regarding the symposium details and registration information, visit the event website here.
About Mtell
Founded in 2006, Mtell is a privately held company providing software solutions for managing the health of industrial equipment. Making machines smart, Mtell plays an important role in developing the Industrial Internet of Things. In addition to reducing risk to people safety and the environment, Mtell is a significant contributor to equipment performance and profitability. Solutions are deployed globally in the oil and gas, mining, pharmaceutical, and wastewater industries. For more information, visit http://www.mtell.com.