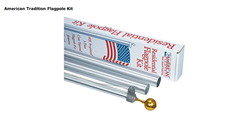 This is a great, solid item, and an ideal addition to our product line.
Atlanta, GA (PRWEB) May 21, 2014
A new heavy-duty, wind rated 20-foot sectional residential flagpole has just been added to the product line at the Flagpole Warehouse, a division of The Flag Company, Inc., sold with the American Tradition Flagpole Kit, the industry's premiere residential flagpole kit offered at the best price $325.
A tapered pole that comes in three easy-to-assemble sections, all with a satin finish, it is 20 pounds lighter than other comparable poles, strong and long lasting. Manufactured to exacting specifications, this kit features:

20' Mounting Height (22' Nominal Height For Use in Ground Set Installation.)
Full 3" Butt Diameter
6063 Aluminum Alloy (seamless, commercial grade aluminum alloy.)
Cone Tapered sections are manufactured to precise tolerances for easy and attractive installations.
Satin Aluminum Finish (a natural aluminum finish that will never rust.)
3" Gold Anodized Ball Ornament
Cast Aluminum Single Stationary Truck Assembly with Aluminum Pulley
Clear Silicone Adhesive Sealant
Heavy-Duty PVC Foundation Sleeve
Included is a complete External Halyard Assembly featuring a #10 polypropylene rope halyard, two chrome plated snap hooks, and a 6" cleat with attaching screws for quick and easy installation.
"This is a great, solid item, and an ideal addition to our product line," said Mike Lawrence, Vice President of The Flag Company, Inc. "With our fast and free shipping, the American Tradition Flagpole Kit can be at a customer's doorstep in time for Flag Day and the 4th of July.
About The Flag Company, Inc.
In addition to being the largest online supplier of flags and flagpoles, The Flag Company, Inc. owes its start to the success of its original product, Farming Flags™. The Flag Company, Inc. also manufactures its patented Flagpole Beacon for its Illuminator Series flagpoles and for single sale retrofits. Eighteen distinct categories of customers can choose from an expansive inventory of over 6,500 items. The Flag Company, Inc. now also partners with a machine and manufacturing company, expanding its capability to provide custom brackets, finials, hardware, etc. for special situations. Additionally, it is collaborating on creating robotic equipment for use in the flagpole industry.
With special and challenging projects a strength for The Flag Company, Inc., resumé highpoints include flagpoles for Georgetown University in Qatar, the Spiral Rotonde at Aruba International Airport, and Dow Chemical Headquarters in Michigan, and the 1996 Centennial Olympics in Atlanta, GA, and prior. Celebrating 25 years of providing excellent products and customer service, The Flag Company, Inc. appreciates all its loyal customers and hard-working employees as it looks forward to many more years of leading the industry. The Flag Company, Inc. has websites targeting its many customer categories: http://www.flagpolewarehouse.com, http://www.valley-forgeflag.com, http://www.feelgoodlightups.com and http://www.toothpickflags.com.