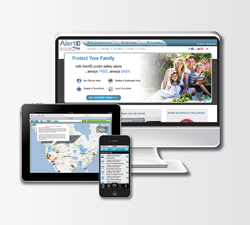 AlertID now has members in more than 72,000 neighborhoods across the country.
Las Vegas, NV; San Francisco, CA (PRWEB) May 20, 2014
AlertID, your family and neighborhood safety network, continues its dramatic growth and has achieved several major milestones. AlertID now has members in more than 72,000 neighborhoods across the country, with more signing up every week. To date, AlertID has sent more than 110 million safety alerts through its secure platform, and sends more than 500,000 safety alerts every day.
"AlertID's free service helps families and neighbors receive important safety alerts and share information with one another to build stronger, safer and closer knit communities," said Ken Wiles, AlertID CEO. "People want to know what is going on around their homes, schools, offices and neighborhoods and no one else has been able to make it this easy to receive and share trusted information that affects everyone's safety. Thousands of new neighborhoods are signing up each month, which reminds us that people everywhere want to be a part of building safer communities. We are grateful to be able to help these families and appreciate their support."
AlertID is a free service with members across the US and more than 30 countries, including Canada and Mexico. To sign up for a free AlertID account, or for more information, please go to http://www.AlertID.com.
About AlertID, Inc.
AlertID is your family neighborhood safety network. AlertID has more than one million members in 85% of US zip codes, offering sex offender alerts that cover more than 90% of the US population and crime alerts for hundreds of cities in the US. AlertID has proven to help reduce crime, using secure and proven technology to create two-way communication between citizens and federal, state and local authorities to provide immediate information on crime, terrorism, natural disasters, or severe weather that can threaten the safety of families and neighborhoods. For more information, visit http://www.AlertID.com.