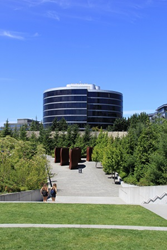 "I believe the company has a bright future, and I look forward to working with Paul and Digital Fortress' board, to help make the company a premier provider of data center and network services in the Western U.S."
Seattle, WA (PRWEB) May 21, 2014
Digital Fortress™ today announced that Tony Naughtin, chief executive officer of Cascadeo Corporation, was elected to Digital Fortress' board of directors at their meeting earlier this month.
"Tony has a wealth of expertise in the managed services industry and we look forward to his contributions as a member of Digital Fortress' board of directors," said Paul Gerrard, Digital Fortress' CEO. "We are excited to have a local Seattle businessman of Tony's stature and experience join the Digital Fortress team."
"I feel privileged to be joining the Board at Digital Fortress," said Naughtin. "I believe the company has a bright future, and I look forward to working with Paul and Digital Fortress' board, to help make the company a premier provider of data center and network services in the Western U.S."
Mr. Naughtin has over twenty years of experience in building and leading top-tier infrastructure and service provider companies. In doing so, he has created and managed innovative business models, built quality management teams, and driven productive relationships with premier customers, alliance partners, venture capital firms, and investment banks.
In 1996, Mr. Naughtin co-founded Internap Network Services Corporation where he served as President and CEO until August 2001, led the company to $125 million in annual revenues, and completed two successful public stock offerings. From 2007-2009, Mr. Naughtin served as President and CEO of GridNetworks, an Internet video service provider which was acquired by Global Media Services (New York) in 2009. Mr. Naughtin has served as a Board director for a number of other companies, both public and private, including Internap, Counterpane Internet Security (now a subsidiary of BT), GridNetworks, Cellular Terrestrial Broadcasting, Inc. and Fine.com. Mr. Naughtin started his career as a staff attorney in the early 1980s with Cablevision Systems Corporation. He holds a B.A. in Communications from the University of Iowa and is a graduate of the Creighton University School of Law.
About Digital Fortress
Digital Fortress™, Inc., is a privately held West Coast data center provider delivering secure, high density colocation services with carrier and cloud neutral hosting infrastructure. Managing over 60,000 sq. ft. in downtown Seattle, WA. Digital Fortress services the enterprise customer with secure private-caged suites supported by professional 24×7 staff and diverse carrier neutral infrastructure connected to the Westin, Fisher Plaza and Seattle Internet Exchange. Digital Fortress™ data centers utilize the greenest utility in the nation – Seattle City Light – with over 96% of its energy derived from clean, inexpensive hydroelectric and wind power. Since 1994, more than 1,200 customers have entrusted their applications and servers to the mission-critical facilities and network operated by the merged entities of Digital Fortress.
For additional information about the company or its Seattle data centers, please call 877-720-0483, visit our website http://www.dfcolo.com, check out our blog http://dfcolo.com/news/ or email info(at)dfcolo(dot)com.
Source Digital Fortress™, Inc. – Your Foundation Should Be in a Fortress
Media Contact:
Digital Fortress™, Inc.
Kurt Widmann, VP Sales and Marketing
O: (206) 681-9730 | 1-877-720-0483