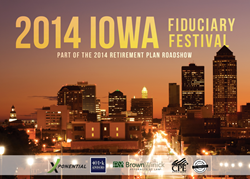 '...providing practical approaches to follow to ensure you are meeting your fiduciary obligation, and ultimately doing things with the best interests of your plan's participants and beneficiaries in mind.'
Des Moines, Iowa (PRWEB) May 28, 2014
The 2014 Iowa Fiduciary Festival invites proactive retirement plan sponsors, CFOs, human resources/finance executives, trustees and business owners in Iowa to discuss and listen in on improvements and adjustments to all employee retirement plans. Hosts, 401(k) Advisors and Xponential Growth Solutions, gathered an executive panel and keynote speakers to discuss fiduciary risk mitigation and best practices, economic and compliance updates, Target Date Funds and share local insights and perspectives.
Todd Lohman, Managing Director of 401(k) Advisors - Iowa emphasizes, "In today's litigious environment, carrying out one's fiduciary responsibilities in a prudent and well-documented manner is as critical. The Fiduciary Festival will focus on stories of success and best practices for you as a Fiduciary, providing practical approaches to follow to ensure you are meeting your fiduciary obligation, and ultimately doing things with the best interests of your plan's participants and beneficiaries in mind". Lohman will be speaking alongside Robb Hill, Director - 401(k) Advisors, Iowa and special guest speaker Bob Baur, Chief Global Economist - Principal Financial Group. Other keynote speakers include Ronni F. Begleiter, Attorney at Law - BrownWinick; Joni Tonnemacher, Partner at McGowen Hurst Clark & Smith P.C.; and Lisa Murphy, Compliance Consultant - Retirement Services Division - Mass Mutual.
The 2014 Iowa Fiduciary Festival will be held at the Des Moines Golf and Country Club on Wednesday, June 11, 2014 from 11:00 AM to 2:30 PM (Lunch Served). The 2014 Iowa Fiduciary Festival is approved for 3 CPE/CPA Credits and 3 HRCI/SPHR/PHR/GPHR General Credits. Seating is limited and priority will be given to qualified, local plan sponsors, with the $150 registration fee waived on a limited basis. Register here.
About 401(k) Advisors
401(k) Advisors provides independent retirement plan consulting services to major and mid-sized private and institutional plan sponsors, and currently oversees over $17 billion in assets under advisement. The firm is recognized for best practices in retirement planning, investment due diligence, vendor service and fee benchmarking, compliance processes, and education for sponsors and participants. http://www.401kadvisors.com
About Xponential Growth Solutions
Xponential Growth Solutions (XGS) unites 401(k), 403(b) and retirement plan sponsors with elite resources and exclusive connections. Through research, fiduciary summits, and industry expertise they help the nation's retirement plan sponsors, fiduciaries, and trustees evaluate their plan and navigate the retirement plan industry. Working to help America reach their retirement goals one retirement plan at a time, XGS also founded the Retirement Plan Roadshow - a national series of fiduciary educational summits dedicated to human resources, finance and business professionals in charge of America's 401(k), 403(b), and retirement plans.