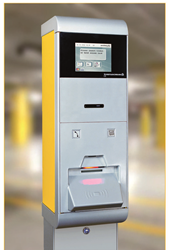 The new passage unit is the latest hardware to be introduced by Scheidt & Bachmann in 2014 and is expected to be launched to the public for purchase this year.
Burlington, MA (PRWEB) May 21, 2014
This year, Scheidt & Bachmann is introducing the latest version of its ticketless in-lane passage device. This unit allows for ticketless transactions in parking operations with RFID transponder cards, QR barcodes or credit cards. The passage device leads the way for our customers to provide a ticketless means to their operation without losing the flexibility of reservation systems, loyalty programs, contract parking and pre-booking systems. Although the device is still in product launching phase, the slick, new look for the new additions and functional improvements to the unit will surely attract the attention of many parking operators. Here is a first glimpse of the new features of the passage device.
General Usage
Scheidt & Bachmann's passage device is a compact entry/exit device that controls barrier passage used in parking facilities that do not require ticket production. The device is specifically designed for applications in which no issue or disposal of media (paper tickets or ChipCoins) is required and instead has a reader that checks defined means of identification such as transponder cards, QR barcodes or credit cards of authenticity to generate access control. The passage unit allows users to operate it from within a vehicle and can be installed both indoors and outdoors.
Product Features
The new passage device will contain more user-friendly components than the previous version PXU32.1 unit. While the earlier PXU32.1 passage device had an alphanumeric display, the latest version has a larger graphical LED color screen installed to show visually attractive user guidance. The new look displays a more robust structural design with the same aluminum shell case, stainless steel and plastic housing. Unlike the traditional entry/exit devices, S&B's passage devices require low space for installation and low maintenance due to fewer moving parts. Besides a larger color display, the new unit also allows for customization of additional capabilities such as:

Customized color
Vehicle detector
Audio and intercom technology
Credit card readers
Receipt printer
Front Facing Barcode scanner
Expected Launch
The new passage unit is the latest hardware to be introduced by Scheidt & Bachmann in 2014 and is expected to be launched to the public for purchase this year. Scheidt & Bachmann expects an increase in demand for a unit such as the passage device in the near future due to the universal operation of the unit. Please contact Scheidt & Bachmann directly for more information on the latest passage device and other hardware solutions by visiting http://www.scheidt-bachmann.com or calling (781) 262-6667.
About Scheidt & Bachmann
Scheidt & Bachmann international transportation solutions provider since 1872. The family-owned German company operates two of its largest divisions – Parking Systems and Fare Collections Systems – in the U.S. market from its subsidiary headquarter in Burlington, MA. The Parking Division offers parking access and revenue control systems to various industry clients including airports, hospitals, universities and municipalities. All of the software and hardware equipment are made internally at the S&B factory either in the U.S. or Germany. The company prides itself on maintaining a reputation as the top leader in the industry through its focus on innovation, reliability, flexibility and service.