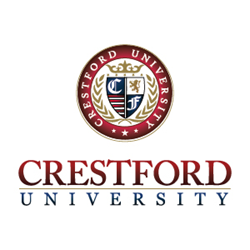 Our philosophy at Crestford is simple; to properly prepare young and budding professionals by equipping them with the skills needed for them to make a necessary impact in their chosen profession
(PRWEB) May 20, 2014
Crestford University has been ranked amongst one of the top 5 online universities that provide students with an encouraging and motivating student experience, according to a recent survey conducted by a group of highly reputed and well-established accreditation agencies from around the world. This was done in order to assess the overall level of performance and quality of academic programs provided by some of the world's leading online universities.
Crestford University claims to be one of the world's leading online educational institutes for working adults interested in attaining high quality education combined with affordability and convenience. Thanks to its highly advanced and high-tech online learning platform, students studying at Crestford University can gain access to knowledge that is current and up-to-date and which is related to events taking place in various industries along with course material relevant to a range of subject fields. In addition, Crestford University's plan is to ensure that students around the world are exposed to a learning experience unlike that given by any other university. "Our philosophy at Crestford is simple; to properly prepare young and budding professionals by equipping them with the skills needed for them to make a necessary impact in their chosen profession," explains Alice T. Thaxton, Communications Director at Crestford University. "All of this is provided within an environment that is designed to stimulate every student's learning drive and encourage them to reach their highest potential."
Because the university offers a diverse range of high quality and affordable academic programs, the response given by students has been extraordinary. 8 out of 10 students have been reported to rank Crestford University as their number one choice for high quality online education, according to university representatives. "Each year, more and more students want to study with us," said Thaxton. "This is because of the numerous benefits we provide that aim at making their academic journey with us all the more smooth." She also highlighted the various ways in which Crestford University strives to make their academic programs affordable for students everywhere. "We at Crestford offer scholarships of up to 90% to students on merit and need basis in order to facilitate them in the achievement of their academic goals."
Crestford remains unswerving in its resolve to provide high quality online education to students around the world. Individuals coming from all walks of life can benefit from the innumerable benefits provided by the university, which ultimately will enable them to achieve all their academic and professionals goals. It has been creating unique online learning experiences through state-of-the-art technology, thus making education accessible and affordable for students across the world. Online education at Crestford University has made an exponential growth in the past few years, as more students come onboard and enroll in wide range of online programs. Crestford is a student-centric online University, aimed at imparting quality education with knowledge and practical learning delivered through innovative technology with support of expert faculty from around the world.
About Crestford University
Crestford University is one of the world's leading pioneers and catalyst of online education, offering unique learning experiences for students worldwide. Crestford University offers world class online education programs at degree, diploma and certificate levels. At Crestford, we offer innovative and self paced online education programs at degree, diploma and certificate levels in 16 schools and 71 diverse majors. Our expert faculty and global presence facilitate us to achieve our mission and strengthen our competencies in the field of online education.