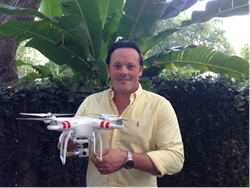 You could pull up Google Maps to view the property and area, but that's pretty boring. My solution? Boom! I send my drone up to 350 feet above the home for a 360-degree aerial view.
Miami, FL (PRWEB) May 21, 2014
Move over virtual tours. Miami real estate agent, Michael Light, is using drone video technology to take selling and listing residential properties to new levels.
While drone technology isn't new, it is gaining in popularity for a multitude of uses and is emerging as a marketing tool for real estate agents. Most realtors rely on video production companies to gather the footage for them, however, Light recently purchased a DJI Phantom 2 Vision+ drone camera and is already putting it to great use. Using high-flying technology, the drone can soar up to 1,000 feet and capture 1080p HD 360-degree video.
Light, who works with a majority of relocation buyers, recognizes the technology's ability to provide a better service for buyers who live outside of Miami. The aerial videos give foreign buyers a view of a home and its surroundings that they previously could have only seen in person.
"If you're interested in buying a home near the water in Miami, but you currently live in New York City, you could pull up Google Maps to view the property and area, but that's pretty boring. My solution? Boom! I send my drone up to 350 feet above the home and shoot a 360-degree video that will show you the home and all of its surrounding," says Light.
Drone videos are also poised to be a phenomenal tool for sellers. While photos of the interior of the property are still a crucial part of marketing, Light points out that buyers will be more drawn to view a home in person if they have seen an aerial tour of the property.
As for privacy concerns, Light notes that the purpose of the videos are solely to display real estate in a whole new way.
"I'm not using the videos to spy on people or for any unethical reasons," adds Light. "I'm just making the homes come alive by giving buyers the big picture of the lifestyle they could have if they purchased the property."
In the first quarter of 2014 alone, Light facilitated a total of $11 million in real estate transactions in Miami. He was also recently appointed as Senior Vice President of Luxury Sales for Keller Williams Coral Gables. For more information on Light as well as to search available properties, visit MiamiLuxuryHomes.com. Light can be reached directly at (305) 566-1700.
About Michael Light
Michael Light, Founder and Owner of Miami Luxury Homes, is a top-producing, luxury real estate professional who is licensed with the National Association of Realtors (NAR) and the Miami Association of Realtors. He is a Realtor Associate with Keller Williams Realty and a member of KW Luxury Homes International. Michael is one of approximately 1,100 members of Keller Williams Realty who has met the qualifications to join KW Luxury Homes International putting him in the top 2% of this prestigious group. Michael's unwavering work ethic, extensive background in the real estate finance and development industries and impeccable service are just a few of the reasons Michael is sought-after by powerful professionals and influential individuals. Since 2009, Michael has facilitated real estate transactions totaling over $70 million. Get to know more about Michael by following him on Twitter at @SoBeAgent. He may also be contacted via email at michael(at)miamiluxuryhomes(dot)com, on his cell phone at (786) 566-1700 or office phone at (305) 350-9842.