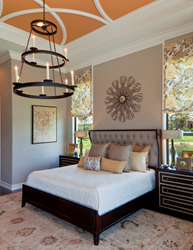 The touches of vibrant color in this home add life to the neutral backdrop of this market.
Naples, FL (PRWEB) May 21, 2014
Award winning Interior Design Firm Beasley & Henley Interior Design finished the interior design and installation of the Palmhurst model in Lely Resort. This newest Beasley & Henley model was designed for Stock Development. Beasley & Henley's Design Principal Troy Beasley, created the interiors of 2822 sqft home to be vibrant, providing a much needed contrast to pales and neutral color palettes of this market.
While the backgrounds of this 3 bedroom/3½ bath home are safely soothing, touches of energetic burnt orange and deep blue throughout the home, infuse it with life.
The living room is inviting and large enough for entertaining, which is important to this vacation home buyer. The ceiling is impressive with bold blue color complimented by the room's soft yellows, medium wood tones and off-white walls.
The dining room is comfortable with a trestle table, sophisticated chairs and a tile floor that mimics the texture of a rug. The study is small but impactful with vibrant artwork and a wall of sheer draperies to create interest and block out neighbors.
The master bedroom is attention-grabbing with its circular ceiling molding and bold color. It is complimented by off-white bedding, amber pillows and medium wood tones. The master bath is calm with a touch of dramatic artwork.
Buyers enjoy the neutral breakfast nook and kitchen, where interest is achieved by mixing textures in the back splash, granite countertops and seating fabric. The guest rooms are designed to be comfortable for a range of age groups.
One of the best-selling points of this home is the outdoor living room and dining room which the designer accentuated with bold primary colors and comfortable seating.
Beasley & Henley began the design specifications for the model in 2013. Design Specification refer to the selections of such as flooring, trim package, cabinetry, countertops and more.
The firm has designed 15 model homes for Stock Development in the past 3 years.
Pricing for the Palmhurst floor plan begins at $634,990.
------------------------------------------------------------------------------------------------------------------------------
Beasley & Henley Interior Design is a boutique design firm that believes in creating innovative and memorable interior spaces, uniquely suited to our client's needs and specific goals. With 20+years of experience in award winning multi-family projects, our industry leading team is composed of the best designers and staff, providing our clients with exceptional quality and exceeding their expectations. If you have questions about this project or any other, please reach us in Central Florida at 407-629-7756 or at our Naples office at 239-774-1005. You can email us at Stephanie(at)BeasleyandHenley(dot)com or visit us on the web at http://www.BeasleyandHenley.com.