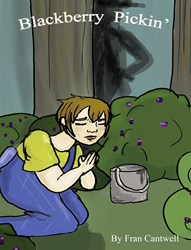 The story is based on a real experience of a family that moved from North Carolina to Ohio.
Newark, Ohio (PRWEB) May 20, 2014
In her latest children's book, author Fran Cantwell features a young girl from an Appalachian family enjoying time spent with her grandfather and extended family. This new illustrated book shares the fun she has during a day of picking blackberries. The story is based on a real experience of a family that moved from North Carolina to Ohio.
"Blackberry Pickin'" starts with the girl's family packing up for a family picnic in Amish country, where they'll be joined by other family members. One of her favorite family members is her grandfather, known as Molt. He and the children pick berries while the grownups fix the food. The children have an extra incentive to pick lots of berries: The one with the fullest bucket earns a silver dollar, which bought a lot of things back then, but most of the children eat more than they pick. Will the bushes she finds filled with berries be enough to help her win the prize?
Colorful illustrations by Taylor Holter move the story along. Its straightforward narrative works equally well as a read-aloud story for younger children and silent reading for slightly older children.
Author Fran Cantwell, mother to eight children, is a teacher, playwright, author and poet. She has degrees in early childhood and human resources. Her other books include "Sir Chipmunk," "Lady Butterfly" and "Queen Bee." She and her husband, Dave, live in Granville, Ohio. Illustrator Taylor Holter is studying animation at Columbus College of Art on Design. She lives in Johnstown, Ohio.
----------
For additional information, please visit http://www.blackberrypickin.net.
Blackberry Pickin'
Fran Cantwell
Dog Ear Publishing
ISBN: 978-1-4575-2241-3 36 pages $14.95 US
Available at Ingram, Amazon.com, Barnes & Noble and fine bookstores everywhere.
About Dog Ear Publishing, LLC
Dog Ear Publishing offers completely customized self-publishing services for independent authors. We provide cost-effective, fast, and highly profitable services to publish and distribute independently published books. Our book publishing and distribution services reach worldwide. Dog Ear authors retain all rights and complete creative control throughout the entire self-publishing process. Self-publishing services are available globally at http://www.dogearpublishing.net and from our offices in Indianapolis.
Dog Ear Publishing – self-publishing that actually makes sense.