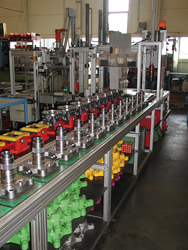 Product Manager Jim Convis states, We purposely designed this tool to cover the gamut from introductory training through small operational analysis to additional ad-hoc analysis for expansive TQM systems.
South Lyon, MI (PRWEB) May 20, 2014
User Solutions, Inc. announces the release of Spreadsheet QC v2014, a collection of 15 professional templates that make statistical process and quality control more accessible by automating the main techniques in a familiar form, the spreadsheet. Spreadsheet QC is used with all versions of Excel, even the Office 365 version for extra mobility and sharing, plus Lotus, Quattro Pro and all compatibles.
Small operations which are just beginning to implement quality improvement programs can benefit from Spreadsheet QC's low cost and ease of use. Large operations can use it to complement existing Total Quality Management (TQM) systems for flexible, ad-hoc reporting. And all size operations can benefit from its use as a training tool to teach quality management tactics.
How It Works
Using familiar spreadsheet menus, users simply input the data into spreadsheet cells and the Control Charts, P Charts, Sampling Methods, Pareto and other quality analysis macros immediately provide information that can be used to pinpoint and solve quality problems. For any data input, the user can enter in a simple number, an equation, enter a link back to another spreadsheet for desired data, or even read data from another system, all from within the familiar spreadsheet environment. The spreadsheet's graphic capability enables quick and easy presentation. Additionally, the actual source code, referred to as "macros", is included with each product, enabling customers to modify the macros to further customize Spreadsheet QC to their individual operations.
Quick Analysis Tool
Minimal Skills Required
Excel, Lotus, or Quattro Pro
Guaranteed
Easily Modified & Customized
Low-Cost
Source Code Included
Low Cost and Fully Compatible
Priced at only $129 for a single user license and $258 for a 5 user license, User Solutions' products (sold directly from http://www.UserSolutions.com and through a number of Internet resellers) are guaranteed and include free trials and documentation.
About US: User Solutions, Inc. was created in 1991 to help manufacturers and other operations to become more competitive through managing key resources more efficiently. Their line of products, including Excel add-ons, custom .Net applications, and Web based offerings, are designed to adapt to specific customer requirements, quickly and affordably. For more information contact: us(at)usersolutions(dot)com, UserSolutions.com Toll Free: 800-321-USER(8737).