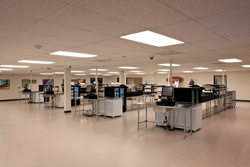 Aldine ISD recognized the flexibility they would gain in using Ramtech's relocatable modular building approach for both their current cafeteria requirements and other future applications
Mansfield, TX (PRWEB) May 20, 2014
One of the primary advantages of modular construction is the ability to relocate the modular buildings to another location for the same purpose or for some other secondary utilization. This flexibility is now on full display at the Houston-area Aldine Independent School District's Eisenhower High School, where Ramtech Building Systems has recently completed the relocation of two cafeteria buildings which were initially installed in June of last year at the Districts' Nimitz High School campus. Originally part of a 41,216-square-foot four-building project which includes two facilities at the district's MacArthur High School, the modular cafeteria buildings are being used as interim facilities for up to a year while the district renovates each of the high school's existing permanent cafeterias. According to Gary White, Ramtech's vice-president of sales and estimating, "Aldine ISD recognized the flexibility they would gain in using Ramtech's relocatable modular building approach for both their current cafeteria requirements and other future applications."
The relocation of the two facilities to Nimitz High School were completed in less than four weeks and are currently ready for occupancy. Aldine ISD is also looking at plans to relocate the two buildings at MacArthur High School to another high school campus to continue the renovation program. Because of the urgency and short lead time initially required to get the project started last year, the school district opted to purchase all of the buildings through the Texas Association of School Boards' BuyBoard Purchasing Cooperative. This allowed them to significantly shorten the procurement time frame which would have been required using a conventional bidding process. In order to make the project as cost-effective as possible, the modular buildings are designed to be divided into double-wide sections for use as portable classroom buildings once the cafeteria renovations are completed. To accomplish this, the Type V wood frame buildings have a factory applied 29-guage R-panel metal siding on the exterior, with 5-ton wall-mounted air conditioning units located along each of the side walls where the modular buildings are divided. The interiors of the buildings were finished with vinyl covered gypsum walls, along with an Armstrong Corlon rolled heavy-duty sheet vinyl on the floors to accommodate the high traffic use. Each of the cafeteria facilities features a full commercial kitchen, space for four food serving lines, and ample seating in the dining areas. After the two modular cafeteria buildings were installed, steps, ramps, and landings were built in order to connect the facilities to each other and to the existing campus structures.
About Ramtech Building Systems
Since 1982, Ramtech Building Systems has been providing innovative modular buildings for government agencies, healthcare providers, Fortune 500 companies, and educational institutions throughout the Southern United States. As a design-build construction company, Ramtech offers full in-house design, a manufacturer direct product, and complete site construction services all within a single-source solution. The Aldine ISD project was designed and manufactured at Ramtech's Mansfield, TX headquarters, part of a 20-acre development located in the southern part of the Dallas-Fort Worth Metroplex. Structured as a vertically integrated design-build construction company, Ramtech provides space planning, design services, manufacturing, site construction and finish-out on every project they produce. The company maintains a consistent workforce of production workers and supervisory personnel with an average of 13 years of experience, many with tenures over 20 years. This experience, coupled with Ramtech's approach to modular manufacturing and construction, allows for greater control at each step in the building process resulting in significant time and money savings for their clients. By emphasizing a value engineering approach, Ramtech has successfully completed over 3,000 diverse projects of all sizes. For more information, visit the company's website at ramtecheducation.com.