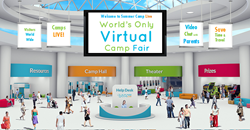 'They have identified an opportunity that is under-served and are well on their way to proving their business model,' said veteran Challenge judge Robert Hacker of GH Capital
Miami, Florida (PRWEB) May 20, 2014
The annual Business Plan Challenge hosted by the Miami Herald and the Pino Global Entrepreneurship Center at Florida International University (FIU) is one of the fiercest competitions for South Florida business start-ups, and this year was no exception. Competing against nearly 200 applicants, Summer Camp Live was chosen as a semifinalist and finished second overall in the FIU track.
"We were honored to be selected as a semifinalist in the Business Plan Challenge and are thrilled that we came in second in our track against other exceptional business models. This entire experience confirms our vision and belief in the potential of Summer Camp Live," said Vicky di Colloredo-Mels, founder of Summer Camp Live.
The Business Plan Challenge consisted of the FIU track and the Community track, each with six semifinalists. There was also a high school track with entries comprised from local schools. Summer Camp Live competed in the FIU track, as di Colloredo-Mels is a university alumna. For the first time ever, each FIU track semifinalist also competed in a live pitch session before judges, which helped determine the final winners. The Challenge consisted of panels of prestigious judges comprised of serial entrepreneurs, investors, executives and small business consultants.
Summer Camp Live not only drives traffic to a camp's website but also provides pre-qualified leads, directly connecting parents to the camp's virtual booth where they may find videos, podcasts, additional marketing material and application forms, and can either text or video chat live or schedule appointments to "meet" at the booth. "Summer Camp Live bridges the gap between camps and parents and campers from different backgrounds and cultures around the world who wish to find the ideal summer camp or summer program. Our virtual platform provides the most advanced online camp fair experience available today, while making it convenient for both the camp and parent to connect in multiple ways right from their own computer," said Felipe Ospina, managing partner at Summer Camp Live.
Di Colloredo-Mels, a mother of two, conceived the idea for Summer Camp Live in 2012. After leaving the banking industry to create a new career path she was passionate about, di Colloredo-Mels, who had a background in education, was introduced to the summer camp industry and was amazed at how a camp experience can positively affect the life of a child and ultimately society as a whole. Based on her own experience as a mom, di Colloredo-Mels found it costly and time-consuming for camps and parents to attend physical camp fairs around the country. Furthermore, she saw how difficult and limited it was to search for information on the thousands of camp options. Soon thereafter, Summer Camp Live was launched.
According to veteran Challenge judge Robert Hacker of GH Capital who evaluated Summer Camp Live's business plan, "They have identified an opportunity that is underserved and are well on their way to proving their business model."
About Summer Camp Live
Summer Camp Live is the world's first and only virtual summer camp fair. Through this online tool, camps can register online to be part of the fair and attendees can "tour" virtual camps year round. Summer Camp Live helps parents and campers around the world to find the best summer camp or summer program by offering the most advanced online camp fair experience. The online camp fair is on all the time, 365 days of the year, 24 hours a day. For more information, visit http://www.summercamplive.com, and on Twitter at @SummerCampLive and Facebook.com/SummerCampLive.