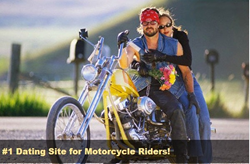 Los Angeles, California (PRWEB) May 24, 2014
Why do people like riding motorcycles? Compared to driving a car, it's more tiring, more vulnerable to bad weather and road conditions, more dangerous and risky, isn't it? Well, that's not what a real biker would think. Owning a motorcycle is barely something people need to do - for most people, it's a want or desire.
So why do people want or desire a motorcycle? The premium online dating community that specially caters to motorcycle enthusiasts, BikerKiss, recently picked out such a topic for its members to discuss. A lot of members contributed by giving their opinions or sharing their own stories. Here are the five aspects that get the most credit.

It's fun. A set of good curves on a good road is just the best feeling to ride along on. It's fascinating how human bodies can respond to the gravitational pulls and pushes. The best thing is when someone's on a motorcycle, he feels everything out there, the nature, the road right under the foot, the wind in the face... Nothing will ever compare.
It saves money. Motorcycles burn much less gas than most cars in general, so it really helps save money. Also, at some point, motorcycle riders are leaders in conservation.
Easier to park. Is it a pain when someone spends half an hour in the parking lot but still can't find a place to place his car? That'll never happen to a motorcyclist.
Super flexibility. Remember the helpless feeling of encountering a traffic jam on the road? Being stuck in a car with a line of vehicles in the front blocking the vision and not knowing when the traffic is going to move? A motorcycle can solve all of this! Besides, a motorcycle can literally stop anywhere along any road.
Easier to maintain. Motorcycles are easier to repair. Firstly the engine is more accessible. Go to the bike, pull off a side cover or seat, and there is the engine. Secondly, there is less to maintain, e.g. two wheels not four. In many ways, a motorcycle is only half a car. Finally, many repairs can be done without having to go to a mechanic, like changing spark plugs or fitting a new battery.
Visit BikerKiss for more.