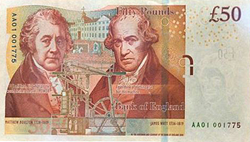 Although coins have been legal tender since they were first introduced centuries ago and as such have more history and value, notes are not lagging too far behind. We have seen some change hands for considerably more than their face value
London, UK (PRWEB UK) 21 May 2014
As they are the highest denomination of legal tender in the UK and being a prime target for forgers, the £50 note is subject to intense scrutiny. For this reason, the Royal Mint is phasing out the current £50 note and replacing it with a more secure one.
According to a news report written by Anthony Reuben and published on 28 April 2014 by BBC News online and entitled, "Small Data: Check for fifties under the mattress," the £50m note featuring the first governor of the Bank of England, Sir John Houblon, is to be withdrawn on Wednesday 30 April. This is to be replaced with new notes containing more up-to-date security measures.
High-denomination banknotes are popular with criminals because they make it easier to transport lots of cash. That makes the £50 note in the UK, and the 500 euro banknote in the rest of Europe, a chosen target. At the current exchange rate, the 500 euro banknote is worth eight times as much as a £50 note. According to another BBC News Report entitled "500 euro note – why criminals love it so", written by BBC News home affairs correspondent Dominic Casciani and last updated on Thursday 13 May 2014, criminal activity is one of the main reasons why the 500 euro note is being withdrawn from sale in the UK.
At the time that the announcement was made by BBC News online, The Bank of England surmised that with two weeks to go before the cut-off date for the withdrawal of the existing £50 notes from circulation that there were in the region of 53 million still in circulation, valued at a massive £2.65bn.
"We'd expect a lot to be out there," says Victoria Cleland, head of the notes division at the Bank of England (her name will start appearing on banknotes soon). "There was an increase in demand for fifties during the financial crisis," she adds, as people worried about the safety of banks. "Some people use larger denomination notes to save up for something, and those people might well keep their Houblon £50 notes until they are ready to make a purchase and only then come to the Bank of England to convert them to current notes."
Elliot Basker, Online Business Manager, Hallmark Coins, said, "Many people believe that by virtue of our name, Hallmark Coins, we only deal with numismatists looking to sell or buy rare gold or silver coins and sovereigns. On the contrary we are also in the business to assist individuals looking to trade in rare and valuable bank notes as well. It is not our mainstay, but with the current £50 note being phased out we look forward to assisting those numismatists looking to add them to their portfolio or trade them in the future."
A word of warning has been issued to members of the public endeavouring to use the old Houblon £50 notes to purchase goods or services in merchant and retail outlets. These outlets will in all likelihood refuse to take them and only post offices and several banks will continue to accept them as legal tender until the end of October 2014.
Thereafter, the old notes will only be able to be exchanged for the new Boulton and Watt £50 notes at the premises of the Bank of England in London, or by sending them in the post.