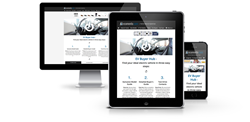 (PRWEB) May 27, 2014
Life just got easier for electric and hybrid car shoppers with the launch of ecomento.com's free Buyer Hub feature.
With a comprehensive database of cars complete with detailed specs, images, and media reviews, the Buyer Hub will guide prospective owners through the process of identifying the right cars through to arranging test-drives in three simple steps.
Both owner and aggregated media reviews will be available alongside regularly updated information on nearly every electric, plug-in hybrid and hybrid vehicle on sale in the United States of America. The much-need feature is so far unique to the green car market.
The three stages are as follows:
1. Model Guide
To find the right car in the first place, ecomento.com is introducing its 'Search by Lifestyle' tool alongside its regular search function, which will allow buyers to quickly and easily indentify the cars most suitable to their wants and needs. A range of criteria, including budget, emissions, seats, range, and safety rating, is used refine searches. The Model Guide also offers a side-by-side comparison feature for multiple-car searches.
2. Buyer's Guide
Once a selection of potential cars has been identified using the Model Guide, the Buyer's Guide will help pinpoint which ones to take for a test-drive. Media reviews for each car have been aggregated and an overall rating from 'rivals are more capable' to 'top of the class' for each car will help prospective buyers narrow down their search to a handful of cars.
3. Test-Drive Contact
Finally, the buyer will be able to directly contact the manufacturer to arrange a test-drive. This is done through a simple form on our website that goes directly to the manufacturer.
The three stages – 'Model Guide', 'Buyer's Guide', and 'Test Drive Contacts' – are all united in the ecomento.com Buyer Hub, which streamlines the process and makes it easier than ever to match people to the right cars.
Furthermore, ecomento.com soon hopes to offer an unparalleled catalog of owner reviews to help those yet to commit with the decision making process. Owners reviewing their cars have the advantage of knowing in detail how the vehicle performs on a day-to-day basis. Journalists often lack this insight because of their limited time with each vehicle.
That said, by collating reviews from respected outlets on cars such as the Tesla Model S, BMW i3, and Nissan LEAF (to name but a handful), ecomento.com's Buyer's Guide gives shoppers a balanced oversight of the cars they are considering from the experts.
About ecomento.com
Up-to-date news and a range of useful shopping tools make ecomento the #1 resource for electric & hybrid car shoppers and enthusiasts.
Tech-laden prose isn't for us. Giving you the news, the facts that matter and the tools you really need to find and buy your next green car is. Whether you just want to dip a toe in the water by leasing an electric city car or you're looking to drop $150,000 on the latest hybrid supercar, here you'll discover everything that's important for your daily and future green car use.