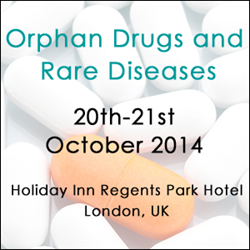 Enjoyed the two-day conference; general overview of diease space & interesting talks delivered. - Associate Director, Shire
London, UK (PRWEB UK) 20 May 2014
As of January 2014, the EMA lifted the restriction on providing fee reductions to large companies developing new orphan drugs and the Early Access to Medicines Scheme was introduced. Key implementation of this will be a factor into further commercialisation and developments.
Based on this information SMi Group is proud to announce it will be hosting the 3rd annual conference on Orphan Drugs and Rare Diseases and bringing together leading experts and companies such as Novabiotics, Pfizer, AstraZeneca, GMP Orphan SAS, Genethon and M&C Saatchi and many more to discuss the latest developments in the market.
Benefits of Attending:

Case Study: A patient representative giving an insight into their own thoughts on recruitment from start through to drug approval – engagement enhancement
Just Released – The approval of the Early Access to Medicines Initiative, important insights from key opinion leaders
•Important! Focus is on enhancing development pathways of orphan indications, looking at initiatives and collaborations – What direction are we moving in?

Assessing tools for consideration to gain early market access
Key Speakers:
Dr Gunter Harms, Market Access & Public Affairs Directore, Shire
Bertram Haussle, Chaiman of the Board of Management, IGES Institut
Josie Godfrey, Associate Director-Highly Specialised Technologies, NICE
Chris Hart, Information Practice Leader, AstraZeneca
Anthony Hall, Co-Founder, Findacure Foundation
For more information please visit http://www.smi-online.co.uk/2014orphandrugs64.asp.
If you would like to attend this conference as a delegate please contact John Collins on +44 (0) 207 827 6734 or e-mail jcollins(at)smi-online(dot)co(dot)uk.
If you are interested in sponsoring this event contact Alia Malick on +44(0)20 7827 6168 or email amalick(at)smi-online(dot)co(dot)uk.
If you would like to become a media partner contact Sarah Watson on +44 (0)20 7827 6134 or email swatson(at)smi-online(dot)co(dot)uk.