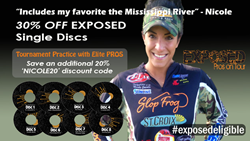 I want to continue to encourage and educate people to follow their passions through faith and fishing.
(PRWEB) May 21, 2014
Nicole Jacobs, who hails from the Twin Cities, fished her first 2014 FLW tournament on May 17th at the Walmart Bass Fishing League - Great Lakes, Mississippi River-La Crosse tournament. While not competing Jacobs also spent her time promoting her sponsors including Exposed Eligible?, and sharing the opportunities all of her sponsors have to offer.
Jacobs started fishing competitively in 2013 after dealing with a series of personal losses in 2012. In 2013, Jacobs placed in the top-ten bracket in two Minnesota tournaments, the MNBF: Sugar Lake, Minn. And the MNBF Qualifier: Gull Lake, Minn. This year, Jacobs is slated to fish in nineteen tournaments across the upper Midwest.
Like many professional anglers who credit their roots to others, Jacobs attributes her passion for fishing to her father. Jacobs's father taught her how to fish on the Mississippi River when she was a child. Jacobs describes this time with her father as "our" time. In 2012, Jacobs experienced a series of life-changing blows including the loss of her father and a serious car accident.
In the wake of this adversity, Jacobs decided to devote her full attention to the sport of bass fishing. She discovered quickly that "when I was on the water, I was with my father." The Minnesotan has set out on her journey to fish competitively with the mission to "break barriers, in the industry, by being a role model and empowering people to follow their passions through faith and fishing." These were the values Jacobs says her father instilled in her as a child.
With its own mission of empowering anglers through education, ProPatterns has sought to build relationships with anglers whose upward trajectory can serve as an inspiration to others. While building her own brand, Nicole Jacobs Fishing, Jacobs has also spent much of her time giving back to the community. She has mentored youth with Fishing 4 Life, assisted with the production of the Junior MNBF Qualifier at North Long Lake, Minn., and has served with conservation and clean-up efforts at several lakes in Minnesota.
While gaining endorsements and sponsorships from a number of outdoor businesses, including ProPatterns, Inc., Jacobs has also developed supporting partnerships with the Multiple Myeloma Research Fund, Fishing 4 Life, Tips Outdoors, St. Jude's, the NPAA, and the Minnesota Bass Federation.
Jacobs sets out this year on a busy schedule, stating that "I want to continue to encourage and educate people to follow their passions through faith and fishing."
With three seasons of the Exposed series released and a fourth season's filming underway, ProPatterns will continue exposing the secrets of the top anglers in the sport, but also looks forward to discovering talented newcomers like Nicole Jacobs. The Exposed Eligible? film contest was established with that very goal in mind. To find out more about the Exposed series and the Exposed Eligible? film contest, please visit http://www.propatterns.com.
About ProPatterns, Inc. and Exposed:
ProPatterns, Inc. is a leader of angling education by sharing professional fishing tips, industry information and member services online. In addition, ProPatterns offers prize filled competitions, sharing of information among peers, and connections to industry professionals and media through means available nowhere else.
Information is gathered from various sources and disseminated with members in a variety of ways. The Exposed video series, for example, gains all of its integrity from an alignment with the biggest names in the bass fishing industry including professionals who fish with BASS, FLW, and PAA. Cooperation from the anglers and their willingness to share is the catalyst for the growth of this series.
For Exposed Eligible? contest information and rules, the Exposed video series, and all other ProPatterns offerings, and to become an ELITE or Social ProPatterns member, please visit http://www.ProPatterns.com.