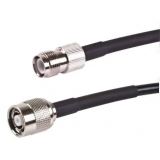 (PRWEB) May 20, 2014
Excel-Wireless.com, a reliable online supplier of high end wireless products, has recently released its new collection of cable jumper assemblies. According to the company's development manager, these new assemblies are available in a wide range of specifications. Additionally, they are now available at greatly discounted prices, up to 28% off.
Excel-Wireless.com's useful products are famous for selected materials, meticulous production and varied specifications. The new selection of cable jumper assemblies is no exception. The considerate service and competitive prices are also the main factors for the big success. It sincerely wants to save money and energy for worldwide clients.
"We are proud of our new cable jumper assemblies. At the moment, all of them are offered at low prices. Also, customers who place an order above $4000 can get a free shipping fee. We have confidence in the new collection, because our cable jumper assemblies are made high quality materials. I believe they can be popular in the international market and greatly stimulate our business growth," the development manager says.
Then he adds, "We want to show our appreciation to old and new clients by offering the low rates. Please note that our stock is limited; clients who are interested in these cheap cable jumper assemblies should visit our online shop as soon as possible."
About Excel-Wireless.com
Excel-Wireless.com is a leading global supplier of cellular amplification and wireless communication systems with a focus on cell phone boosters. The business has many years of experience in the industry with a trackable record that it has cooperated with many companies, universities, military and government agencies and communities in all sizes around the world. For more detailed information of the company and its new products, please visit: http://www.excel-wireless.com/.