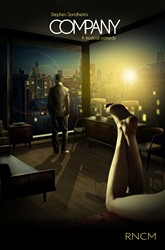 'Company remains as provocative and psychologically penetrative as when it was garlanded with awards at its Broadway première in 1970.'
Manchester (PRWEB UK) 21 May 2014
The production, which takes place at MMU's Capitol Theatre between Wednesday 25 June and Friday 4 July, marks the first time in 14 years that the RNCM has presented a musical theatre piece following Sondheim's Into the Woods in December 2000.
'The tremendous success of our postgraduate Musical Theatre study option in recent years, and the enthusiasm from students has really influenced our decision to branch out from the operatic repertoire and broaden the student experience,' explained Stefan Janski, Head of Opera at the Manchester-based college. 'The RNCM's School of Vocal Studies and Opera thrives on offering the very best training and performance opportunities to aspiring young singers and instrumentalists. Today graduates need to be as versatile as possible, and in presenting productions such as this they are learning additional skills and techniques so essential to the industry.'
Released on Broadway in 1970 and nominated for a record-setting 14 Tony Awards (winning six in total), Company was the first musical to focus on adult themes and relationships. Set amid the gleaming chrome and plexiglass towers of swinging 70s Manhattan, the story focuses on confirmed bachelor Bobby as he rapidly heads towards his 35th birthday. Taking advice from his 10 closest friends, the production features an array of hit songs, including Being Alive, The Ladies Who Lunch, and You Could Drive a Person Crazy, making it one of the most memorable musical theatre works of all time.
Directed by Garth Bardsley, a Senior Lecturer at the College, the production is double cast featuring students from the School of Vocal Studies and Opera, with set and costume design by David Cockayne (designer of the RNCM's recent Gluck double-bill The Drunkard Cured and Orfeo ed Euridice) and musical direction by West End and Broadway maestro Julian Kelly.
'Company remains as provocative and psychologically penetrative as when it was garlanded with awards at its Broadway première in 1970,' said Garth, an RNCM graduate. 'In musical theatre, Stephen Sondheim and George Furth are the most perceptive analysts of the human condition. In Company, Manhattan relationships are examined with humour and psychotherapeutic insight. We leave the theatre perhaps changed, definitely challenged and hopefully nourished.'
Company can be seen at MMU's Capitol Theatre between Wednesday 25 June and Friday 4 July. For full performance dates and times visit http://www.rncm.ac.uk/company. For more information or to request interviews and images, please contact Liz Rowley, PR and Media Relations Officer, at liz.rowley(at)rncm(dot)ac.uk or 0161 907 5369.
ENDS
Listings information
RNCM Opera Presents Stephen Sondheim's Company
Capitol Theatre, MMU School of Theatre
Wednesday 25 and Thursday 26 June, 7.30pm
Saturday 28 June, 2pm and 7.30pm
Sunday 29 June, 3pm
Tuesday 1, Thursday 3 and Friday 4 July, 7.30pm
Creative Team
Garth Bardsley - director
Julian Kelly - music director
Bethan Rhys Wiliam - choreographer
David Cockayne - set and costume designer
Paul Botham - lighting designer
Clement Rawling - sound designer
Cast
Joseph Dexter, Stuart Overington - Robert
Stephanie Stanway, Kimberley Raw - Sarah
Matt Mears, Brian McNamee - Harry
Juliet Montgomery, Victoria Wilkie - Susan
Nathan Bellis, Ravi Popoff - Peter
Jennifer Parker, Jenny Carson - Jenny
Steven Griffin, David Cane - David
Elizabeth Humphries, Michaela Parry - Amy
Jacob Robson, Dominic Stewart - Paul
Rabiya Plush-Noad, Rebecca Starling - Joanne
Thomas Luckett, Aidan Edwards - Larry
Rhiannon Herridge, Eleanor Sanderson-Nash - April
Catriona Hewitson, Bea Marshall - Marta
Charlotte Christensen, Amy Webber - Kathy
Anna Cooper, Judith Holt, Grace Houston -Tick Tock dancers
Eirianna Lagkouvardou, Margaux Stones